In support of the Navajo Nation, especially in this critical time, Avid Core is donating to the official Navajo Nation Response Fund. We encourage you to join us to see where you can help—financially or otherwise—and to seek help when you need it.
I grew up in a small rural community on the Navajo Reservation called Birdsprings, Arizona. There isn't much there – you'll find dirt roads, a chapter house (similar to a city hall), scattered hogans (traditional houses), and a small church on top of a hill where the community congregates every Sunday.
The Navajo Nation extends into the states of Arizona, New Mexico, and Utah, covering 27,000 square miles of beautiful landscape characterized by arid deserts, alpine forests, high plateaus, and mesas. The reservation, roughly the size of West Virginia, has 12 healthcare facilities, 13 grocery stores, and a very limited amount of testing sites. When COVID-19 was making headlines as a novel coronavirus in China in January, I never imagined that my tribe, my home, would soon have one of the highest infection rates within the U.S.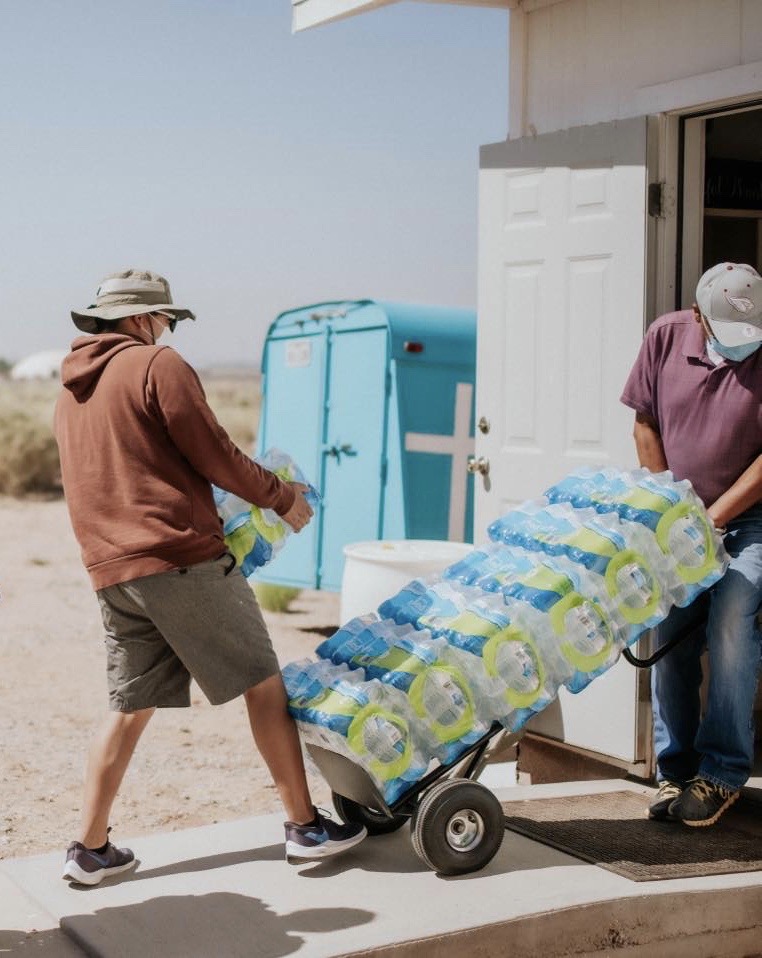 The Navajo people have been grappling with poor socioeconomic conditions for hundreds of years. The absence of vital infrastructure for electricity and plumbing has made this fight against COVID-19 seem impossible. About 60,000 people on the reservation still live without electricity and nearly 10,000 households are without running water.
After the rapid spread of coronavirus throughout Navajo land, our small church shuttered their doors and gatherings have been minimal. The tight-knit community culture has had difficulty practicing social distancing because many of the Navajo elderly don't understand the necessity. The Navajo President issued nightly curfews, and weekend lockdowns with fines up to $1,000 in response to the rapid spread. Our community-oriented culture largely came to a standstill.
Reaching the community during a pandemic is a daunting task. Limited access to cell phones and even less access to the internet by the population at large has made public outreach difficult. We rely on the community to communicate the needs of each household, which is challenging when you're not allowed to leave your own home. The supply chain issues that hit stores across the nation were magnified in small communities, and my small community found itself in need of cleaning supplies and food which can still be hard to come by.
In an effort to help, I was able to coordinate a donation from another church in Flagstaff, Arizona. They gathered boxes of essential cleaning supplies and culturally-appropriate food ingredients to share with the community. I helped with the distribution of more than 50 boxes of food and supplies to families throughout the community.
Public outreach and strategic communication are not only methods of informing the community, but a tool to empower it. Working together to coordinate this donation helped bring back our sense of community and gave to those who were most in need.
At Avid Core, we recognize the power of communication and public engagement. The possibilities of empowering communities through the work we do are endless, and we seek to use our skills to equip communities with accurate and transparent information to make the right decisions for themselves.
So often, smaller communities are left out of the conversation when it comes to national issues. We must bring them to the table to affect real change and ensure their needs are met. In our company's public outreach efforts, we take extra care to seek out a full picture of those impacted or potentially impacted and work to find the best ways to reach them.
Currently, the Navajo people are still fighting. Through resilience and strength of the community we have been able to flatten the curve, but we still see a strain on the fragile healthcare facilities and limited personal protection equipment.
We will never forget these times of uncertainty and anxiety, but it is during these moments that community and collectiveness will keep us strong. As a communicator, I aspire to always use my talents and role to aid my people.