To commemorate Jenae's internship with Avid Core, we have donated in her honor to the non-profit of her choice. Jenae selected the Black Women's Health Imperative, a national organization dedicated to the health and wellness of Black women and girls, and we are proud to support this wonderful organization and the important work they do.
If there's one silver lining about being an intern during a pandemic, it's that there's no one in the office to fetch coffee for. But at Avid Core, even if we were working in person, no one would expect the intern to do a coffee run.
As a 2020 college graduate, my internship with Avid Core was a great opportunity to mark the end of my era as a student, and begin to learn more about myself as a professional. It taught me what I like to do, highlighted my strengths and areas of improvement, showed me how I can hone transferable skills to support my interests, and offered experience working in a remote environment. I learned something new every day, whether it was about communications consulting or just "adulting." Either way, it was clear that I was now working in the "real world" that I had been hearing about between the walls of a classroom for the last four years.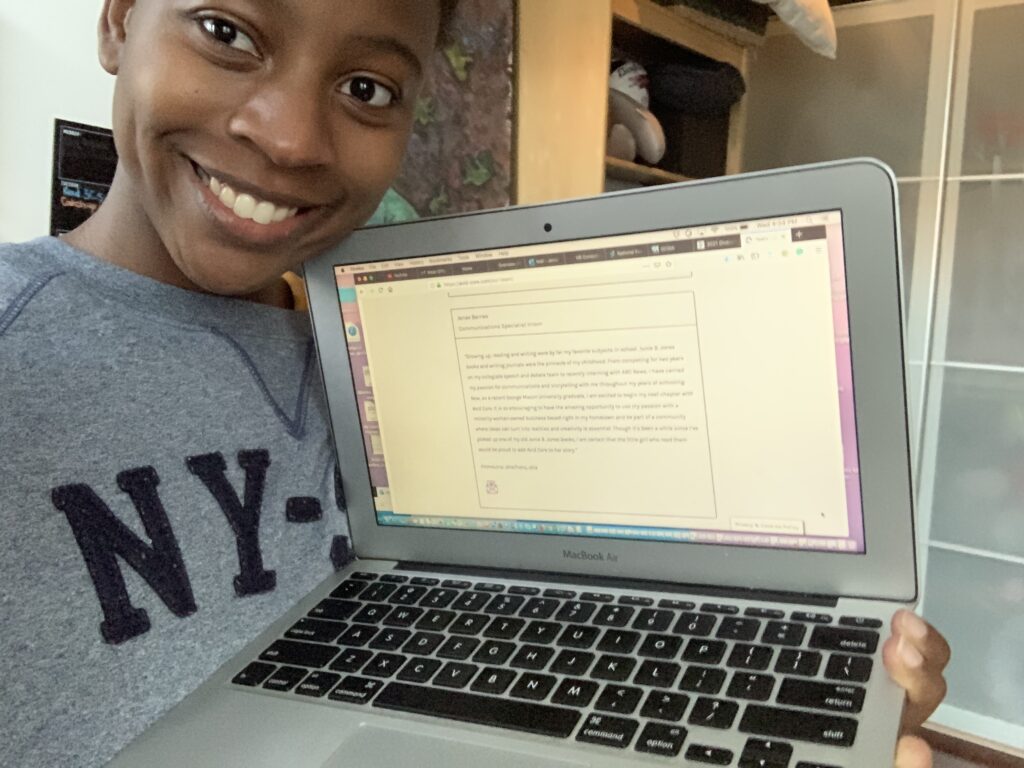 When I graduated from George Mason University in May, I was scared. The uncertainty of post-graduation is significantly more stressful amid a pandemic and recession. After months of applying and freelancing for work, I was so excited to accept this position as a Communications Specialist intern. As a developing journalist, I wanted more experience in the communications field as a whole and figured working with a woman-owned communications firm based right in my hometown was a unique place to start.
Avid Core's flat working dynamic makes the company feel like a close-knit team. Everyone is approachable and made me feel welcome right from the beginning. My team made the "real world" less intimidating by making me feel included every step of the way. I was invited to add myself to the team section of the website, which was a first for me. This inclusion and support continued throughout the internship, echoing through every meeting, project, and happy hour.

At the beginning of my internship, I was encouraged to set measurable goals, whether they were job-specific or focused on honing my professional development. Though I had never previously done many of the tasks I did at Avid Core, over a few short months, I steadily built my experience and skillset. It feels rewarding to be able to look back and see how much progress I have made from the projects at the beginning of my internship to now. That feeling is the crux of a beneficial internship and reflects the importance of setting goals from the beginning.
I confirmed that I like working with others, a big part of the Avid Core ethos. Even as a remote office, team projects and tag-ups are part of the daily routine, which is helpful for getting feedback. In addition to collaborating with others, I was also offered opportunities to take on a leadership role. I crafted the company's first Crisis Communication Plan, managing the project from start to finish and boosting my confidence in my capabilities as a project leader.
I learned the importance of networking and building a good network of colleagues. As Avid Core is a new company, I've learned how those connections become key pillars of support. I'm proud that I'll be able to count on my team members here in my own professional network as I continue my career.
As a woman of color, it was inspiring to work for a woman- and minority-owned business, which I've never done before. I used to have a mental image of what a "boss" or "professional" looked like, and this idea made it seem less attainable to ever reach that level of success. But the more I worked with successful women, who are also successful parents and wives and business leaders, the more I learned that we had a lot in common. It showed me that it's as accessible for me as it is for them.
I am so honored to have been Avid Core's first intern. In my team bio, I wrote about how excited I was to add Avid Core to my story. Now, as my internship comes to a close, I feel confident and prepared to turn the page and begin my next chapter.
Jenae Barnes is a freelance journalist and member of the National Association of Black Journalists (NABJ) with bylines in ABC News, Blavity News, and Medium. Read more of her work.