There is no clear guidebook for how to create social media content in the communications field. This is simultaneously one of the hardest aspects of this career path and one of its best. The lack of a clear guide allows for more individual creativity and expression. But it is not just about finding your own voice.
The biggest lesson I have learned working as Avid Core's communications intern this summer is the importance of learning how to shift the tone, content, and style of everything you post based off the type of account and potential audience.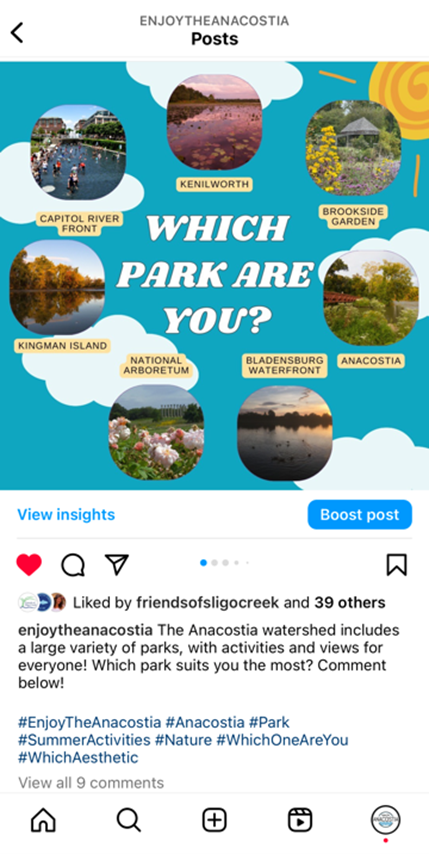 I came into this internship with social media knowledge from working with a dance club at my college, American University. That content was in a much more casual context, and more trend and pop culture-based than the social media content I was asked to create for Avid Core's clients, which include government agencies at the local, state, regional, and federal levels, and nonprofit organizations.
The first project I worked on was creating social media content for the Anacostia Watershed Restoration Partnership's "Enjoy the Anacostia" accounts. The goal of this project was to bring attention to the ongoing efforts to restore the Anacostia River and the many fun activities you can do within the Anacostia Watershed.
This content had to be slightly more formal, since it was coming from an association of different state and federal agencies, environmental organizations, and private citizens, but still needed a conversational, friendly tone to convince an audience the parks are fun! To strike this balance, I incorporated more fun design elements and created content related to recent social media trends to reach a wider, active audience.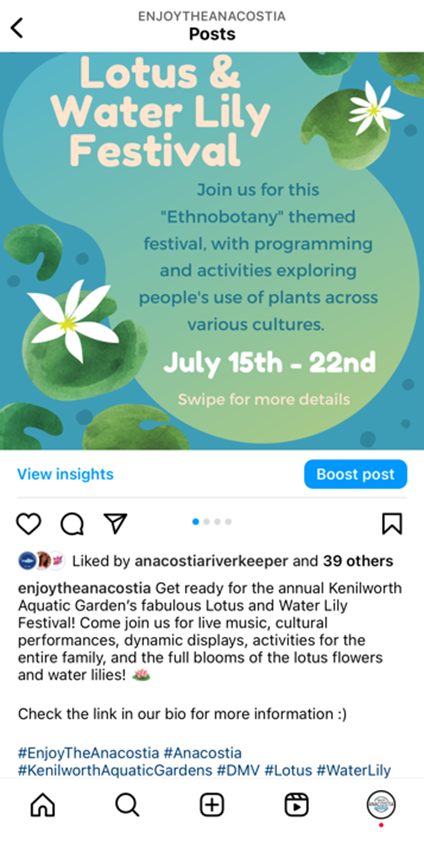 I was also tasked to craft social media posts for a federal agency. Their social media presence was much more straightforward and informative, meaning it was important to have crisp, organized graphics, and to speak in a more professional tone.
It took a bit of adjusting to this new mindset, but I spent time learning and understanding the agency, considering what audience these posts were aiming to reach, and making sure I had a clear idea in my head of the goals of each post to do so effectively.
Creating posts for Avid Core's socials was a bit of a mixture of these two other projects. These posts had to be fairly professional, since they represent our brand, but they also must be friendly and reach out to the audience. Our goals are to pitch and sell our services, to get users to apply for a new job position, to read one of our blogs, or something along those lines.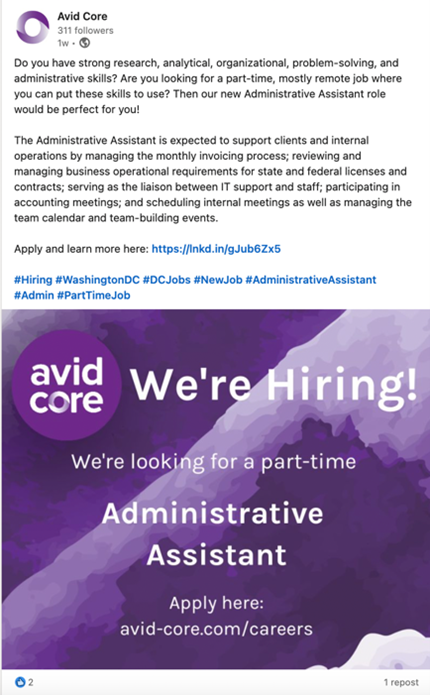 Talking directly to the reader and asking questions at the beginning of the post can be good ways to draw in engagement and participation. It was also key to keep these graphics within the Avid Core brand theme with lots of purple and white. There are so many different types of social media communication, and even more complex nuances to learn within the communication field as a whole since it expands far beyond social media.
From my experience, it is important to learn to think about how the content you are creating is different from others. Think about the audience you are trying to reach and what the goal of your post is, such as getting the audience to click on a link, attend an event, or even just engage with the post. Explore how you can use the unique elements and expectations for the platform you are using to share your message.
When you think about all these elements of your own media, you can find the right tone and style for your content, just like I did.
Ruby Werckman is a senior at American University studying public relations. Connect with them on LinkedIn.