In 1976, then President Gerald Ford honored Rosa Parks on her birthday by declaring February 4 as Transit Equity Day. A civil rights icon, Parks refused to give up her seat on a segregated Montgomery, Alabama city bus and sparked the Montgomery Bus Boycott.
Public transit provides basic mobility and plays a critical role in the economic, social, and environmental well-being of a region. Everyone has a right to safe, reliable, environmentally sustainable, and affordable transit that is accessible to all.
We're commemorating the 2022 Transit Equity Day by sharing insight from a well-respected changemaker, Fatima Ghani. Throughout her career, Fatima has researched and presented studies on environmental equity, sustainability, and community planning and participation. In fact, we attended Fatima's presentation at the 2021 NAEP Conference and have admired her work ever since.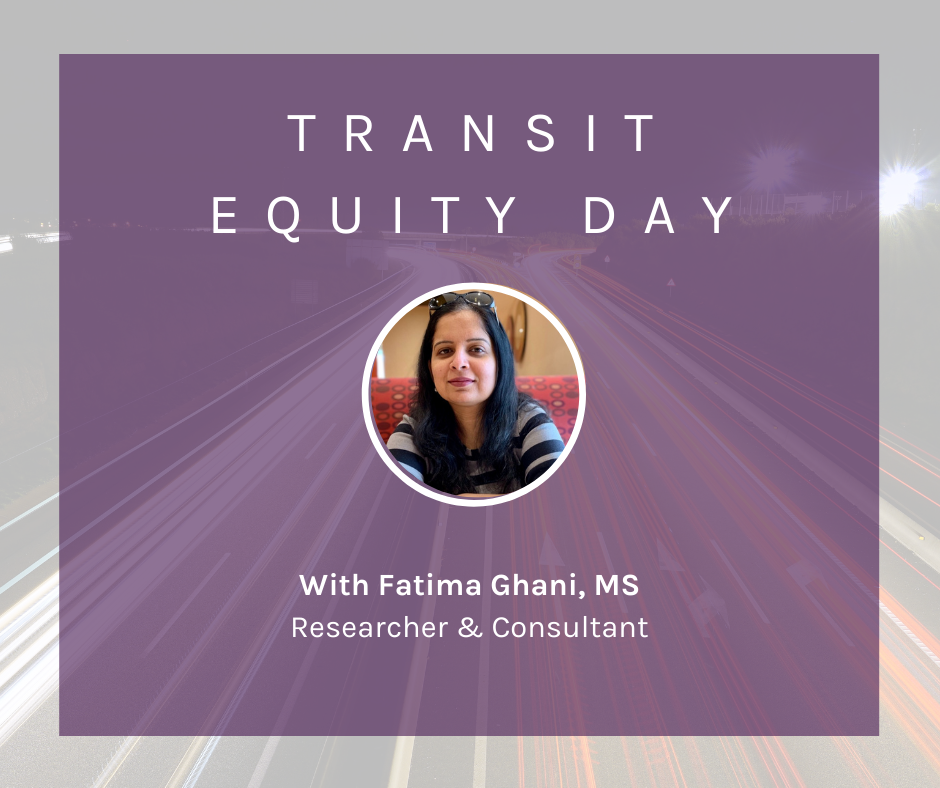 What does Transit Equity Day mean to you?
It is such a shame to mention that something like basic public transportation has/had equity issues. People had to struggle to get a ride on public transport, not because the transit network had issues, but just for being "who they were." Imagine being denied access to take a bus or a train to commute to work, school or other destinations because of who you are! For being you! Isn't it a citizen's vital right to commute?
Let's give it up to Rosa Parks, who took the first step and fought for many unknown faces. It is her courage, protest, and bravery that brought about the concept of "transit equity for all."
A public transit network to a city is like the arteries and veins to a human body. A flourishing city not only relies on an efficient public transportation network, but more importantly an equitable one, which is all-inclusive, sustainable, and resilient.
Could you describe the important role you play in researching outdated infrastructure and designing more sustainable and equitable transportation systems?
I got an opportunity to assist Ron Deverman, Vice President/National Environmental Planning Leader at STV Inc., in his transportation project presentations. The titles of our research project presentations were "Community Conversations: Effective Community Outreach for Equitable Outcomes" and "Interstate to Boulevards," respectively. The former was a railway project focusing upgrades and improvements on old infrastructure. The latter was about redesigning aging highways into boulevards. The focus and vision of both projects was to redesign more equitable, sustainable, and resilient transportation systems.
The main findings and highlights of these research studies were twofold:
There were extreme equity and environmental justice issues in several highways constructed in the 1950s and 1960s.
Public involvement and effective outreach early in the planning process led to equitable and sustainable outcomes/solutions.
What's the best advice you would share to anyone interested in getting involved in making transportation systems more equitable?
The best advice I would share with anyone interested in getting involved in making transportation systems more equitable would be to involve the local community/area residents/business owners early in the project planning process. Community conversations are extremely important in understanding the project needs, finding opportunities, and working out solutions that are equitable and sustainable.
Learn more about Fatima's projects by following her on LinkedIn.
The Avid Core team is committed to helping our partners create equitable public engagement processes. We work with planners, government agencies, community-based organizations, and community members to build and plan for sustainable and inclusive transportation systems.