Welcome to Around the Table, a regular series where we talk to people in our network and share the incredible work they are doing in their industry. Pull up a chair and join us for conversation and connection.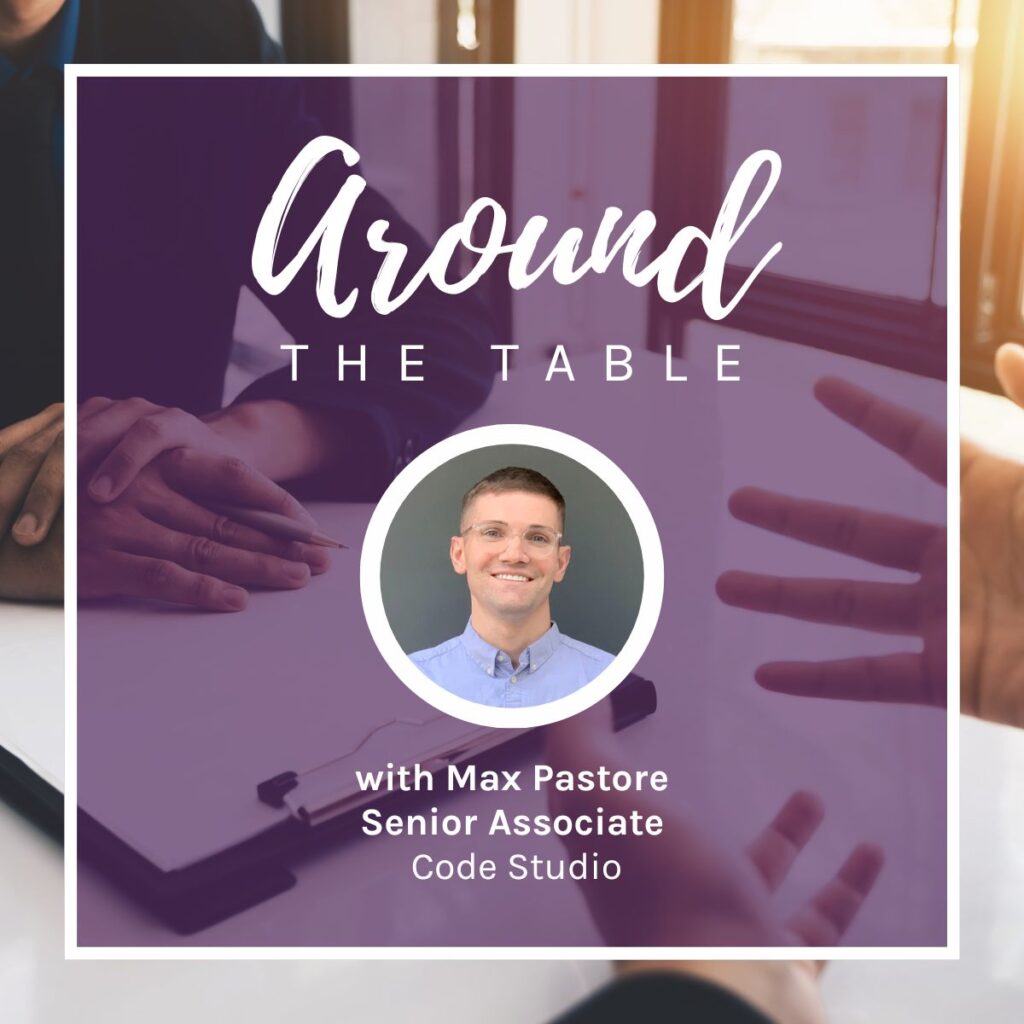 Name: Max Pastore
Company: Code Studio
Where to Find You: LinkedIn
What drew you to the world of community planning?
A bit of a cliché, but my love for cities. Like lots of planners, I entered the profession through architecture and noticed that I was drawn to the context around a site more than any building that I was supposed to be designing.
I'm also a spatial thinker. It's typically been easier for me to wrap my head around things when they're mapped out. Who knows, maybe I just spent too much time on Google Maps growing up!
Can you tell us about a favorite project you've worked on? What impact do you hope your work had?
Don't make me pick just one! Right now, I'd have to say that my favorite project is a zoning code rewrite for the City of Pomona, California. We're replacing their code from the 1940s with something that might be the most innovative in the U.S. to date.
Collaborating with visionary City staff and citizenry led us to incorporate many creative zoning ideas. Most interestingly, we're introducing rules that would let a homeowner convert their garage into a small shopfront to start or expand a small business. This was inspired by a tradition familiar to many local Latine residents. I hope the new code helps Pomona achieve a more equitable and livable built environment where residents' daily needs can be met within the city and without needing a car.
What do you think is the biggest challenge the community planning field is facing today?
I might be biased here, but I'd have to say zoning. Much of the zoning across the country incentivizes—or downright forces—new development to be car-centric, segregated, and sprawling. Beyond increasing housing and living costs, this old-fashioned type of zoning is detrimental to the environment. Luckily, I work with lots of talented folks who are updating zoning codes across the country to help our cities become more affordable, equitable, and sustainable—but it's a big country!
What's the best advice you've received in your career?
Expressing passion is not being "too much." Stay curious and be vulnerable.
When you aren't working, what do you like to do?
Exploring my city (DC) by bike and motorcycle.
If we were literally "around the table" right now, what food would you have brought to share?
I've got a sweet tooth but lack the baking skills… Luckily, my husband's a superstar in the kitchen, so I'd have to share his famous cherry chews! Always a crowd-pleaser.