Welcome to Around the Table, a regular series where we talk to people in our network and share the incredible work they are doing in their industry. Pull up a chair and join us for conversation and connection.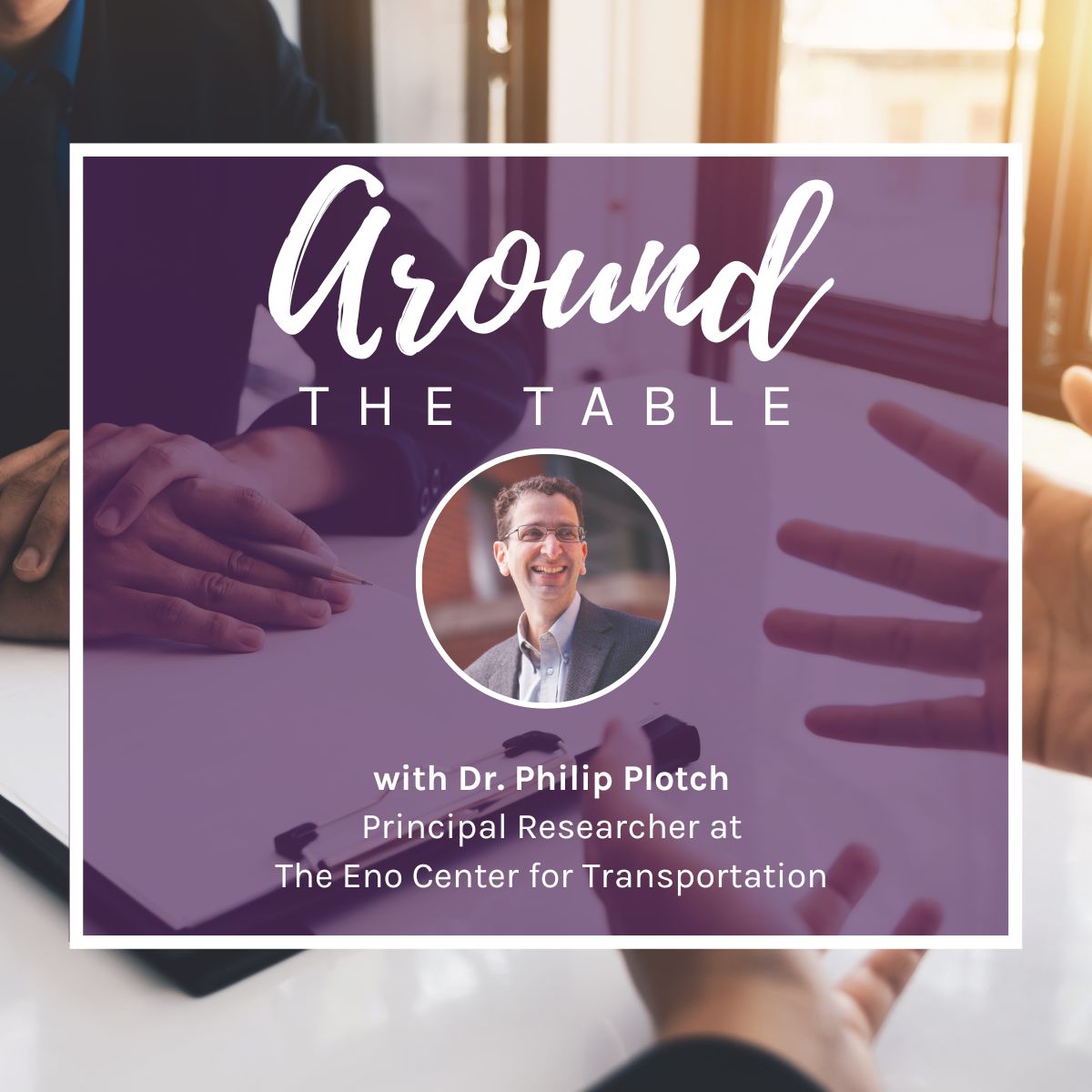 Name: Dr. Philip Plotch
Company: The Eno Center for Transportation
Where to Find You: LinkedIn, Twitter
What drew you to transportation research?
I care about cities. One thing I realized in graduate school was that thriving cities need good public transportation. I became a huge advocate for better public transportation and, as a naturally curious person who likes to share what he learns, research is a natural place for me. Research, oftentimes, is just trying to find an answer to a question.
What do you think is the biggest challenge facing the transportation industry today?
Money is always the biggest challenge. The second would be how to get more people walking and biking because it's better for their health and our planet.
What are some of the projects you're currently working on at the Eno Center?
I just finished a report that identified strategies to improve the hiring of bus operators. That's timely because there is a shortage of bus drivers all across the country and, as a result, transit agencies have been cutting services.
I'm also coming up with ideas to help transit agencies do a better job managing large projects. That's important because in the U.S. we spend more money to build rail projects than any other country.
I'm also helping the City of Chicago improve the way they've structured their transportation agencies. Like many cities, Chicago's transit system is about to face a financial crisis because ridership is down and the federal government's COVID relief funds are drying up.
What's some of the best advice you've received in your career so far? What advice would you give to someone starting out in the transportation infrastructure industry?
Here are four things worth keeping in mind:
The old Boy Scout adage – hope for the best, prepare for the worst.
A 90-year-old engineer taught me that if you learn from your mistakes, you can become good at what you do. If you learn from other people's mistakes, you can become excellent at what you do.
It's OK to take a job that pays less. I've done that a couple of times and it's always worked out for the best. Before you take a new job, make sure that you like your supervisor, the organization you'll be working for, and the work that you'll be doing.

You always need to improve your technical skills (such as learning a geographic information system, or GIS) and soft skills (such as learning how to write a persuasive memo and making a great presentation).
You have written two books and have a third one coming out in May 2023! What's the most challenging thing about writing a book?
For the books I've written, you have to be curious, persistent, and patient. I often want to find out who made a decision and why. Like, what were governors thinking and who was whispering in their ears? That means you have to ask lots and lots of people and go through lots of documents.
Sometimes I want to answer a question that is current, like why did New York Governor Andrew Cuomo decide that it was worth spending tens of millions of dollars to accelerate one project at the risk of disrupting subway service to millions of New Yorkers?
Sometimes it's a more historic question. I was going through the Rockefeller Family's archives at a mansion north of New York City, reading a letter written by Governor Rockefeller about a meeting he had in the White House with President Nixon. I was curious what really happened in that meeting and remembered that Nixon taped a lot of his Oval Office meetings.
So, I contacted the Nixon Library and they retrieved the tape for me so I could actually listen to what the Governor and President talked about. It was super fascinating. (Check out Chapter 4 of Last Subway to read about it!)
In my new book, Mobilizing the Metropolis, I dug deep into the ways that the Port Authority of New York and New Jersey has had dramatic successes and equally dramatic failures. The Port Authority is an important government agency for a lot of reasons, including the fact that it was the very first public authority in the U.S. – now there are more than 30,000 copycats.
Of all the roles you've fulfilled, from professor to urban planner, researcher to author, which one do you most associate yourself with?
I'd have to say "storyteller." My articles, reports, and books all teach people lessons, share suggestions, and warn them about potential problems. That's what I've done as a Dad, also. Here is a good transportation-related lesson turned into a bedtime story…
"Once upon a time, a boy named Nelson was thinking about what he wanted to do when he grew up. He could run an oil company and a bank like his Dad. Or, he could buy the world's biggest yacht and sail every day in Maine (in the summer) and in Florida (in the winter).
Nelson didn't have to worry about money because his grandpa, John D. Rockefeller, was the richest man in the history of the world. After giving it a lot of thought (and after ruling out architect, firefighter and police officer) Nelson decided that the best job would be President of the United States.
Now, it's not so easy to run for President and win – even if you are super rich. So, he decided he would start with being the Governor of the state of New York and then run for President. And that's exactly what he did.
After he was elected Governor, he got the state to build really big things like office towers, hospitals, apartment buildings, and even colleges. The state borrowed billions and billions of dollars and started building these big projects even though it was at a time when a lot of New Yorkers and their companies were moving out. That meant New York was collecting less taxes to pay for big things.
But, Nelson didn't worry about money. He also didn't worry about how New York's subways were having problems. Many of the train stations were 60 years old with peeling paint and bad lighting.
The train tracks were getting old, too, and that meant the trains had to go really slow or they had to stop and wait until the tracks were repaired. Water was ruining some of the stations because some of the old pipes were leaking. The subway workers were having trouble fixing the old trains because the buildings they worked in didn't have all the right tools and equipment they needed to do a good job.
Nelson didn't worry too much about money and fixing old stuff. He wanted to build new train lines – then everybody all over the country would hear about them and people would want Nelson to become President. So, that's what he did.
New York started building new train lines and the President of the United States asked Nelson to be his Vice President.
But, all the money the state had borrowed had to be paid back. Because there wasn't enough money to finish Rockefeller's new train lines, all the construction had to stop. And things got even worse on the subways because so much money had been wasted on new train lines that weren't going to be finished. Every day on the subways, there were fires because the trash on the tracks wasn't getting cleaned and it was catching fire on the electric lines.
The trains also broke down a lot. Sometimes when you rode the train, the doors opened up in between stations but not at the station. That was pretty dangerous.
And, this is what the subways started to look like: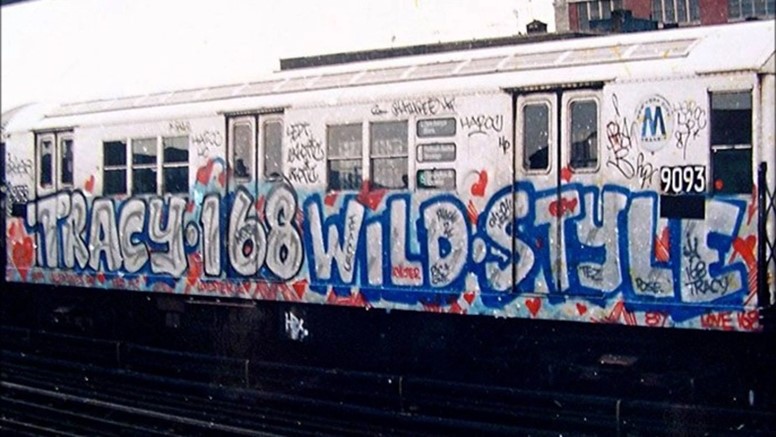 So, here's the lesson, boys and girls, that the richest boy in the whole world did not know. If you have a house with a leaky roof, you shouldn't buy a vacation house until you fix the leaky roof. The same thing with transportation – you shouldn't build new train lines until you fix up the old ones."
If we were literally around the table right now, what food would you have brought with you to share?
I lived in Korea for all of 2021 and I could have eaten bingsu every single day. Here's a photo for those of you who aren't familiar with the magical combination of ice, rice cakes, condensed milk and black beans.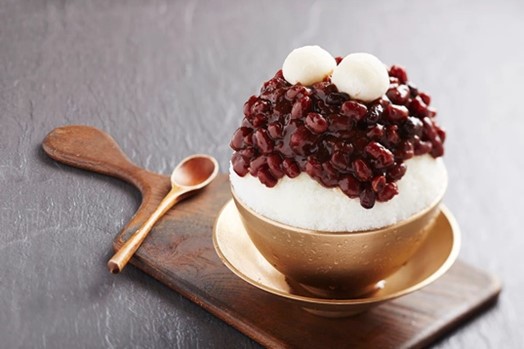 We could all find a table in L.A., Seattle, New Jersey or northern Virginia and get some pretty good bingsu. But, I suggest we all fly to Seoul and get some great bingsu, instead. While we're there, we'll go for a ride on what is arguably the safest, most extensive, and easiest to use, transit system in the entire world. Even Nelson would have been impressed.