Welcome to Around the Table, a regular series where we talk to people in our network and share the incredible work they are doing in their industry. Pull up a chair and join us for conversation and connection.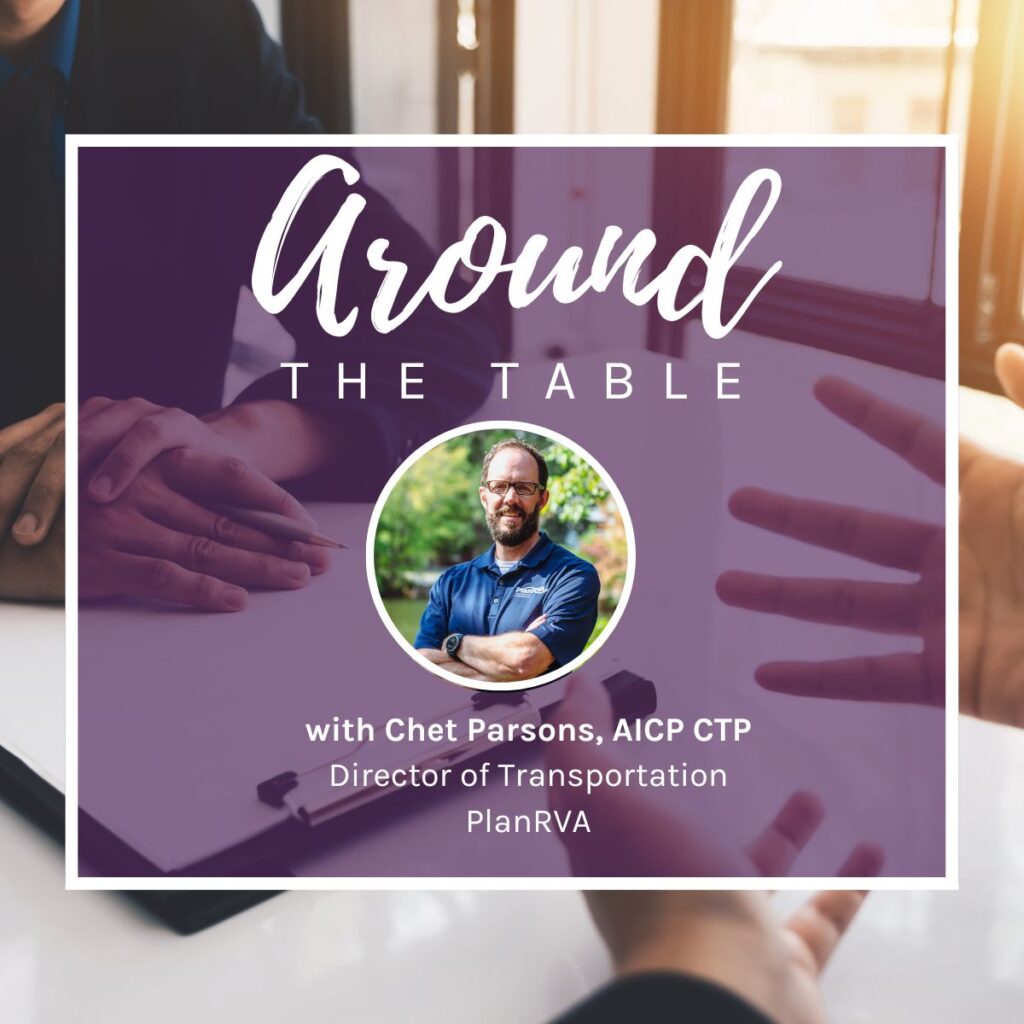 Name: Chet Parsons
Company: PlanRVA
Where to Find You: Facebook
What drew you to the world of transportation planning?
My undergraduate work in engineering taught me how to be a better problem solver and then urban planning in grad school introduced all the need for community connection and engagement to advance big technical plans. Transportation planning is a passion of mine because it combines all my background experience into one field that is broad-ranging and impactful.
What are you proudest of in your work as a transportation planner?   
My best moments happen at a small scale when I interact with members of the community.  Seeing the lightbulb pop on when a concept or position is recognized tells me that we are making a difference.
You'll be presenting with Avid Core's Ashley Dobson and last month's Around the Table interviewee Ann Cundy at the Association for Metropolitan Planning Organizations Annual Conference. What do you hope people take away from your session?
I'm so excited for this! My hope is that we are able to show that there is a new way to engage with the community and it doesn't involve just traditional night meetings and newspaper advertisements. There are so many new and exciting ways to have meaningful conversations around complex issues and you don't need a huge staff or tons of money to make it work.
What do you think is the biggest challenge your field is facing today?
Regional planning has always had a problem being taken seriously. We don't have direct ties to immediate change like a zoning case or an economic development prospect might have. We continue to try and find ways to be a resource for decision-makers to have all the information they need for their work.
What's the best advice you've received in your career?
I think in school we learned about different types of planning and the importance of incremental decision-making. Enacting real change is not an overnight process – it takes a lot of time and patience and understanding.
When you aren't working, what do you like to do?
I love to watch soccer, hike and bike around the Richmond region, and spend time with my family.
If we were literally "around the table" right now, what food would you have brought to share?
Such a good question! I make a pretty legit lasagna.