Welcome to Around the Table, a regular series where we talk to people in our network and share the incredible work they are doing in their industry. Pull up a chair and join us for conversation and connection.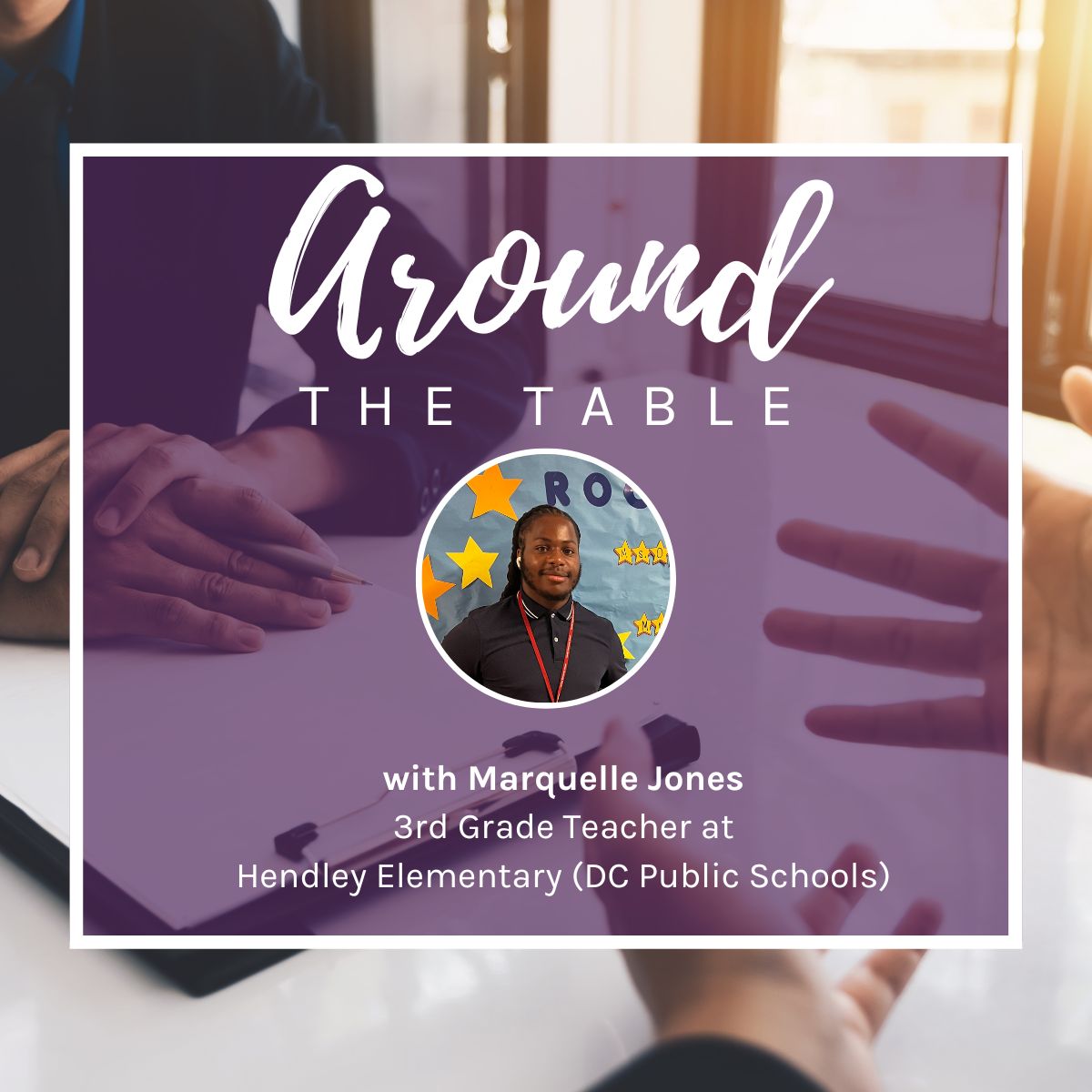 Name: Marquelle Jones
Organization: Hendley Elementary (DC Public Schools)
Where to Find You: Twitter
What first sparked your interest in education? What do you like most about teaching?
It started from me coaching football. It made me realize how much I loved working with kids and how I had a talent for explaining things to children. What I love most is the positivity that the kids display day in and day out. It really brightens my day.
What are some of the challenges you have faced while teaching?
Early in my career I struggled a lot with classroom management. Over time I've learned better strategies for classroom management.
What is the best thing about teaching the third grade?
Honestly everything, but mostly just the creativity they show. They are definitely showing more and more creativity by the day, both in artistic expressions and in their storytelling through journal entries.
What is the best advice you've received in your career?
The best advice I received was that you can always start strict and lighten up, but you can never start soft and then try to be stricter.
What advice would you give to someone looking to become a teacher?
To make sure you listen to your students and remember these little people have a lot of feelings and emotions.
What are some ways people can donate or support your school and DCPS teachers? Are there any fundraisers happening now or in the near future?
They can send donations and supplies to area schools. We don't have a current fundraiser going but we will soon for our cheerleaders to get uniforms.
When you aren't working, what do you like to do?
I'm a pretty big gamer. I could play games all day and I like reading a lot.
I heard that you love sports! What is your favorite sport to watch/play? And who is your favorite team?
My favorite sport to watch and play is football. Ironically enough, it calms me. Unfortunately, my favorite team is the Dallas Cowboys.
Have you ever coached any sports, either as part of the DCPS or in your community?
Yes, I currently coach flag football both here at my school and in my community through a wonderful organization called Flag Star Football.
If we were literally around the table right now, what food would you have brought to share?
Mac and cheese. I love mac and cheese, it is my favorite side dish and I'm very critical on how I judge people's mac and cheese.