Welcome to Around the Table, a regular series where we talk to people in our network and share the incredible work they are doing in their industry. Pull up a chair and join us for conversation and connection.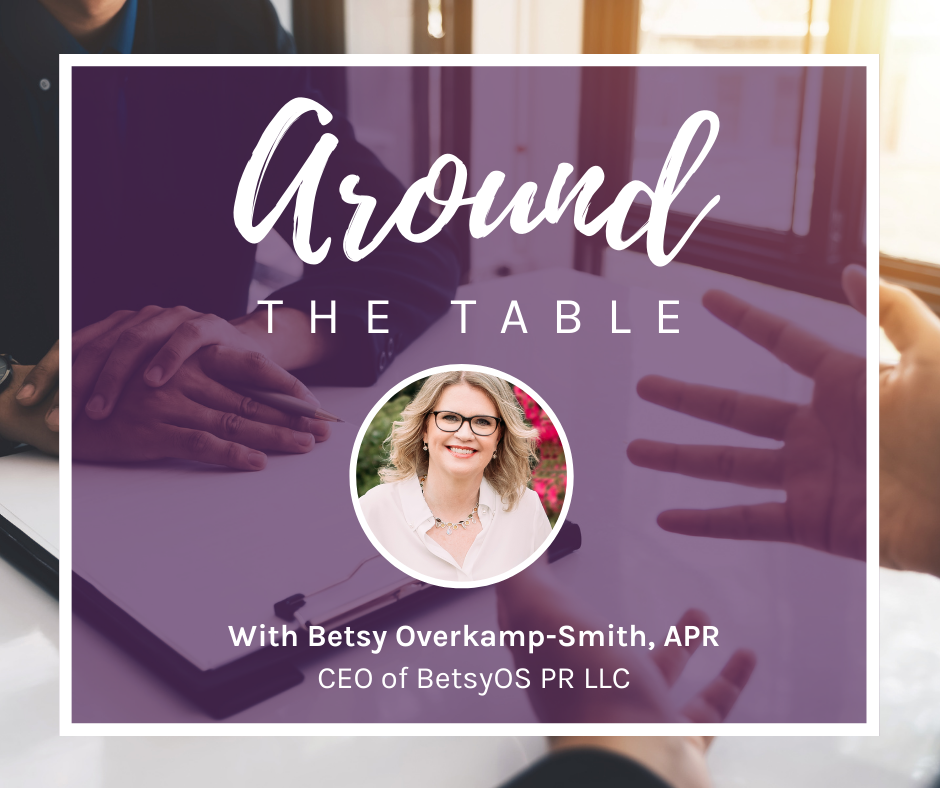 Name: Betsy Overkamp-Smith
Company: BetsyOS PR
Where to Find You: LinkedIn
What drew you to the world of public relations?
I was a newspaper reporter/editor, and, after my first child, I was looking for a career that would give me more balance, timewise. My mom was in non-profit PR, so I knew what the career entailed – or, at least, I thought I did! I didn't realize at the time how challenging public school PR would be, but at least I've never been bored!
How has the pandemic transformed crisis communications, particularly in education?
Crisis communication in education had been evolving for quite some time, mostly due to social media and the 24-hour news cycle. I think the pandemic taught us all more than we ever thought we'd need to know about health-related crisis communication. It also gave us a little bit of a reprieve from crisis PR related to the day-to-day happenings in school buildings – especially when schools were closed.
The pandemic has taught me to remember that every COVID-related communication must be more than just the facts. People are worried and scared and just not sure when the next shoe will drop. As communicators, we need to remember that and help provide as much clarity and compassion as we can.
What could social media look like in 2022 and beyond? What trends are you seeing in your work?
I think many school divisions are rethinking how they use social media. When a division posts something of importance to its students and staff, social media isn't necessarily the best medium because people from around the world can then take the post/information – without any real sense of context – and run with it.
I think 2022 and beyond will further emphasize the need for and use of digital tools that are specifically directed to those who have a personal stake in the division – parents, staff, local community members. That said, I think social media (Twitter, Facebook, Instagram, etc.) is an important component of a comprehensive communications plan, and it can be used strategically to build community, engage families, and share innovation/successes.
What's the best advice you've received in your career?
In my first school PR job, I worked closely with the Chief Operations Officer. His background wasn't education – he was a former Naval officer – but he made such a positive and long-lasting impact on the division and its success. He told me early on to not enter his office and tell him I made a mistake and then expect him to fix it for me. He wanted me to learn how to fix my mistakes and then walk in his office and tell him my plan. Ownership and problem-solving are two skills that have served me well throughout my career.
He also taught me to not hold onto all the mental and emotional baggage that can surround you (and your staff) when you make an error or when things don't go the way you expected. Deal with it and let it go.
When you aren't working, what do you like to do?
I have a Cricut addiction. A Cricut is a machine that you can use to make a whole bunch of things – T-shirts, signs, greeting cards, promotional materials, stickers, the list goes on! I enjoy trying out new skills and sharing my results with friends and family. I also use it for work, so whatever I learn can help my service to clients.
I also just love hanging out with my family. We have great game nights, and we are all focused on one task: not losing to my son! Pick a game, he will master it. It's quite annoying!
If we were literally "around the table" right now, what food would you have brought to share?
I am a Texas girl, so, of course, it would have had to have been some type of Tex-Mex food. I make a mean margarita, and they go great with chorizo and cheese dip!