Welcome to Around the Table, a regular series where we talk to people in our network and share the incredible work they are doing in their industry. Pull up a chair and join us for conversation and connection.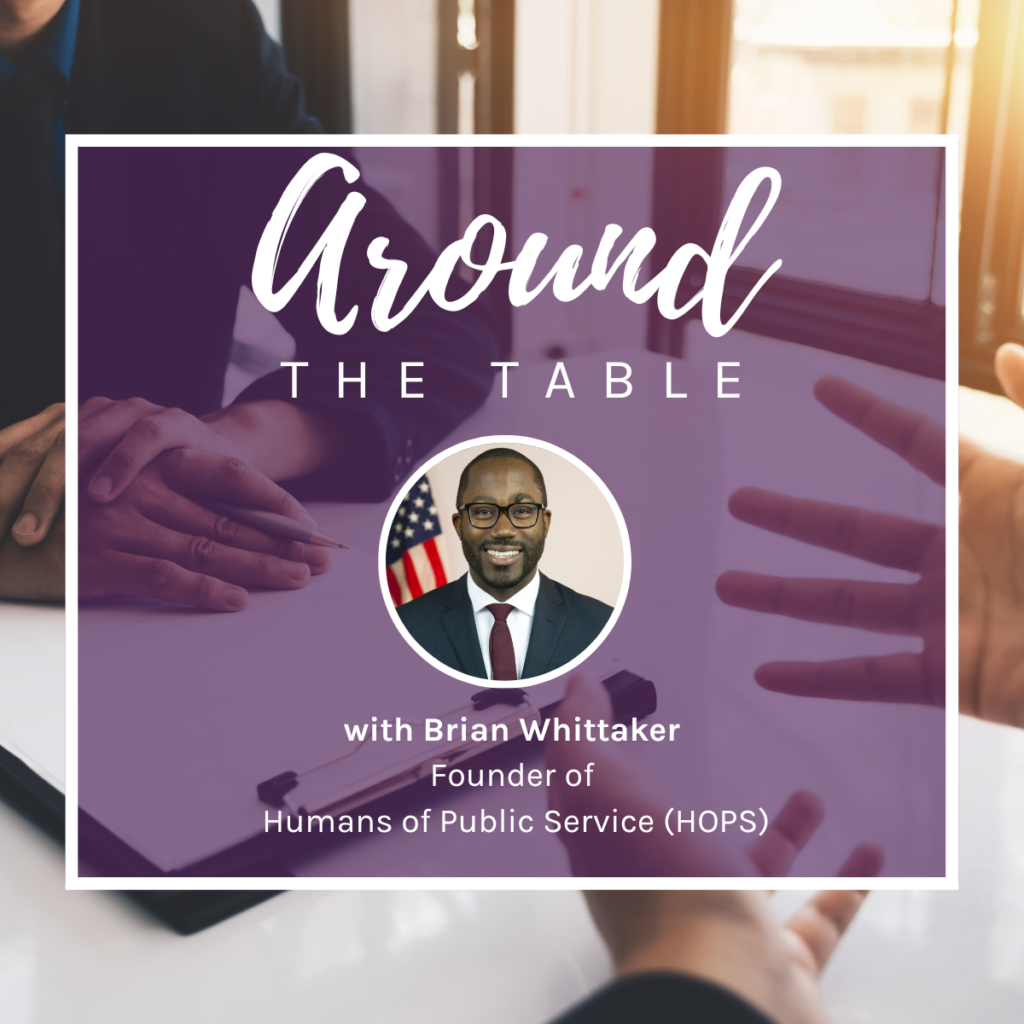 Name: Brian Whittaker
Company: Humans of Public Service (HOPS)
Where to Find You:  HOPS Instagram, HOPS LinkedIn, Personal LinkedIn
What drew you to the world of government/public service?
Impact at scale. I started my career in the private sector and the work didn't really align with my values or interests. I've always had an interest in serving others. I've watched every member of my immediate family do it as either a teacher, nurse, police officer or in the military. When I had the opportunity to join the government and make an impact at scale, I had to take it!
What do you think is the biggest challenge public service/government work is facing today?
The biggest challenge is preparing how we work, our systems and processes for the next generation. We are accountable for critical services and functions that keep our country running. But, while we manage those things, we need to start focusing on recruiting and retaining the next generation of public servants who will maintain or reimagine those services. Finding ways to attract and retain the next generation is critical to the strength of our democracy. We need to find a way to not only be the largest employer in the country but also the preferred employer of the next generation. I want to help the government do that. If you're reading this and you're a like-minded government leader, let's connect.
What inspired you to start HOPS and what is its overarching mission?
The murder of George Floyd changed me. That tragedy forced me to think about what was in my circle of influence and what I could do to try to make a meaningful change for people from marginalized communities. Having worked in government as a federal employee and around government as a contractor, I had a decent network in the public service space. I decided to try to make change in government, in hopes of creating more equitable policies that would hopefully keep murders like George's from happening again. The overarching mission of HOPS is to increase diversity in government leadership and use storytelling to attract the next generation of public servants.
What has been your most significant milestone so far?
This month, HOPS is celebrating its one year anniversary! Even though it's been running for a short time, there have been many milestones. The support has been overwhelming and humbling. I've been grateful for the awards, AGA and Federal 100. I do this in service of others and the biggest milestone for me was hearing a member of U.S. Congress read a Humans of Public Service story during a hearing. Nothing has felt better than creating an opportunity for the unseen to be recognized and valued at that level and stage of government. I hope this isn't the last time and I hope I can make public servants feel valued and our residents feel proud of government employees.
What's the best advice you've received in your career?
You should be able to solve any business or technical problem in three phone calls.
When you aren't working, what do you like to do?
I enjoy spending time with my family. My wife and I like watching our toddler learn and try new things. When I'm not with the little one, I'm listening to new albums that get released every Friday, watching mixed martial arts, and/or eating tacos.
If we were literally "around the table" right now, what food would you have brought to share?
I know what you're thinking but, in my experience, tacos don't travel well so I wouldn't bring that. I like to connect with people over coffee and, if you're really great, we are eating breakfast sandwiches. We don't share those where I come from, so as a friend I'm bringing you a biscuit breakfast sandwich from Tatte. I'll add bacon to your order if you'd like.