Welcome to Around the Table, a regular series where we talk to people in our network and share the incredible work they are doing in their industry. In this edition, our summer intern, Ruby Werckman, interviews one of their Communications professors. Pull up a chair and join us for conversation and connection.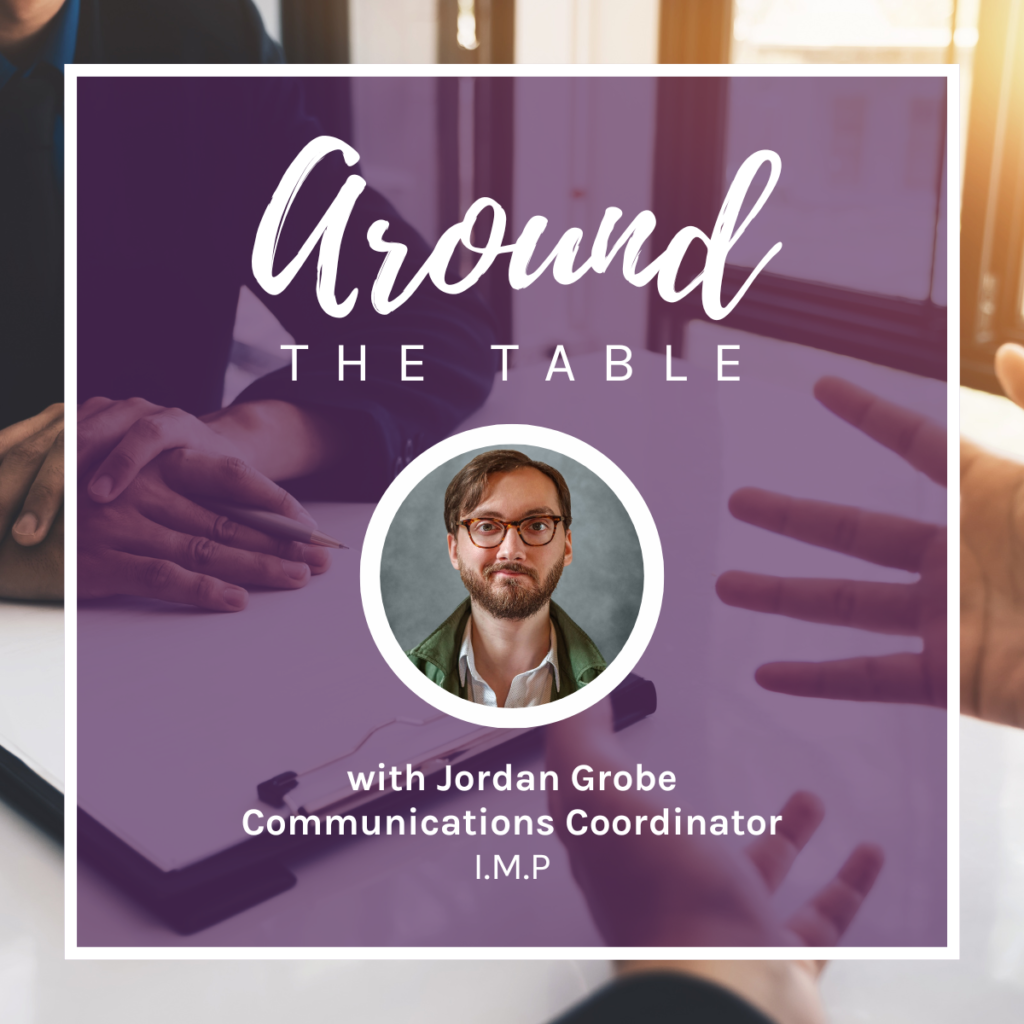 Name: Jordan Grobe
Company: I.M.P
Where to Find You: Instagram, Linktree, Website
What inspired you to work within the music industry?
I always dreamt of working in or around music as a kid, but figured out pretty early that I wasn't going to be the one on stage. I just remember watching Paul McCartney headlining Glastonbury when I was 7 or 8 on the old TV channel Palladia, which I think is now MTV Live. Paul was performing "Hey Jude" to 500,000 people and conducting the entire audience like an orchestra, and something clicked that desperately made want to be a part of that.
What was your career journey to becoming the Communications Coordinator at I.M.P.?
I was first formally introduced to I.M.P. (as more than just a fan and attendee) through college radio at George Washington University in DC. I'd interviewed a band, Caveman, at Rock & Roll Hotel for WRGW and at the end of the night the only folks left in the room were myself, Caveman, their local opener, and a friend of the local opener. Well, that other friend happened to be the Marketing Director for I.M.P. at the time, and after chatting for a while she insisted I apply for the Marketing Internship. They'd actually already filled up their roster for the semester, but they still needed a hand with tabling on-site at shows so that was my first foray into our venues before completing the internship proper the following semester. That was about ten years and five or six different roles ago now, and I've never left!
Are there any upcoming projects or events that you have been working on that you can tell us about?
Well the biggest one was the launch of The Atlantis – our newest and smallest venue designed as an homage to the original 9:30 Club. In my career and in my position specifically, we tend to work toward and build up to large scale projects and unveilings and announcements.
What does an average workday look like for you, though I assume there is no such thing?
The word "average" there is doing a lot of heavy lifting. The regular responsibilities that're continual each day are assigning/managing our team of house photographers, connecting with local media outlets regarding preview coverage for our upcoming events, and coordinating with publicists in advance of each show to finalize their on-site policies and attending press lists. Every single show is different, with unique policies and requirements, different audiences, different reporters and photographers – sometimes there's a video component, sometimes it's just photo. On top of all that, there are other projects that pop up on a regular basis but are always different, whether that be writing new press releases for show announcements or special events or writing plaques for the new statues that we have at Merriweather Post Pavilion.
How do you juggle being in charge of communications for multiple venues and being in charge of so many different photographers at once?
With the help of my interns! (Note: Avid Core's summer intern, Ruby Werckman, is also an intern with I.M.P.) There are a lot of moving parts to this job, especially during the summer when we have Merriweather Post Pavilion open. Our team has to manage media at every show at Merriweather and The Anthem, and I've had to be at most of these inaugural 44 shows at The Atlantis as well. Since I physically can't be in more than one place at once, despite my attempts at cloning, I rely on the help of my team.
On top of your role as Communications Coordinator, you are also a stellar photographer. What can you tell us about your experience with photography?
I started in this position long before I picked up a camera of my own. I was in charge of our team of house photographers from the get-go, which meant that I was around all these creatives constantly. It also meant when they were submitting their work, I was the one reviewing it, trying to figure out which shots would be best to use for our promotional purposes. I spent a lot of time looking at concert imagery over the years, so I think I developed my own stylistic preferences from there – things I liked and didn't like, what I thought could be improved. But all of that is just looking at someone else's image as a critic, which is exceptionally different than figuring out how to actually operate a camera and capture your own. Fast-forward to The Anthem's grand opening in October 2017, and we had a house photographer who was essentially The Anthem's documentarian, a guy named John Shore. He's truly one of the best photographers I've met, and he essentially shot every show from the day The Anthem opened until COVID closed us down (temporarily, for roughly 18 months).
After working with him for two years and him seeing what he called "the eye" in me, he literally gave me the second body to his camera during a show and told me, "You just need to do this," so I did. And I loved it. Spent the next week doing as much research into photography and cameras as I could, pulled the trigger on a Fujifilm X-T3, and the rest, as they say, is history. Photography is this amazing and weird blend of both engineering and art, and there's always more to learn, always more to capture.
What is the best advice you've received in your career?
My first gig in music stemmed from someone telling me "I don't answer my phone a lot – keep calling until I do." The notion of not bothering people, I think, is a really strong one. I think we have this innate fear of being burdensome – that that recognition of how busy everyone is these days prevents us from wanting to ask the questions we deserve to be able to ask. But there's a polite difference between bothering and reminding, and often if you don't circle back, don't nudge, that note that means the world to you, that you're eagerly awaiting a reply for, has unfortunately, unintentionally, fallen to the bottom of the recipient's inbox. It can be a fine line to navigate, but it's always worth reaching out a second time (and sometimes even a third). If they never replied in the first place, giving them a gentle reminder can only, at worst, leave you with the same result as you currently have – no reply. But having the willingness to just keep trying and just do something, rather than waiting for any of it to sort of happen to you, is important.

What advice would you give someone just starting their career in this industry?
Take pride in what you are working on even if it's not your dream, even if it's not your end goal. Everything that you do is a stepping stone to the next thing. If you did something poorly before because you didn't care about that thing, that's not helping you reach the thing that you do care about – and it can actually hold you back. Showing people that you are there, that you care, and that you're willing to help in any way really does go a long way. I think the best thing you can do in life, and especially in a professional work environment, is try to make someone else's day easier.
What song/album/artist do you have on repeat recently?
I've been bouncing through a bunch but I guess the new Grian Chatten, the lead singer from Fountaines D.C., album. The new Geese album is also great, as is the new Do Nothing album. This morning I was just listening to the new covers compilation from Nick Drake, and that's been awesome.
When you aren't working, what do you like to do?
When am I not working (laughs)? I like to watch movies, TV shows, comedy specials, work on photography that is not concert related, and spend time with friends.
If we were literally around the table right now, what food would you be eating?
It's a stereotypical answer, but I'm a New Yorker, so I'm going to go with New York pizza.