Welcome to Around the Table, a regular series where we talk to people in our network and share the incredible work they are doing in their industry. Pull up a chair and join us for conversation and connection.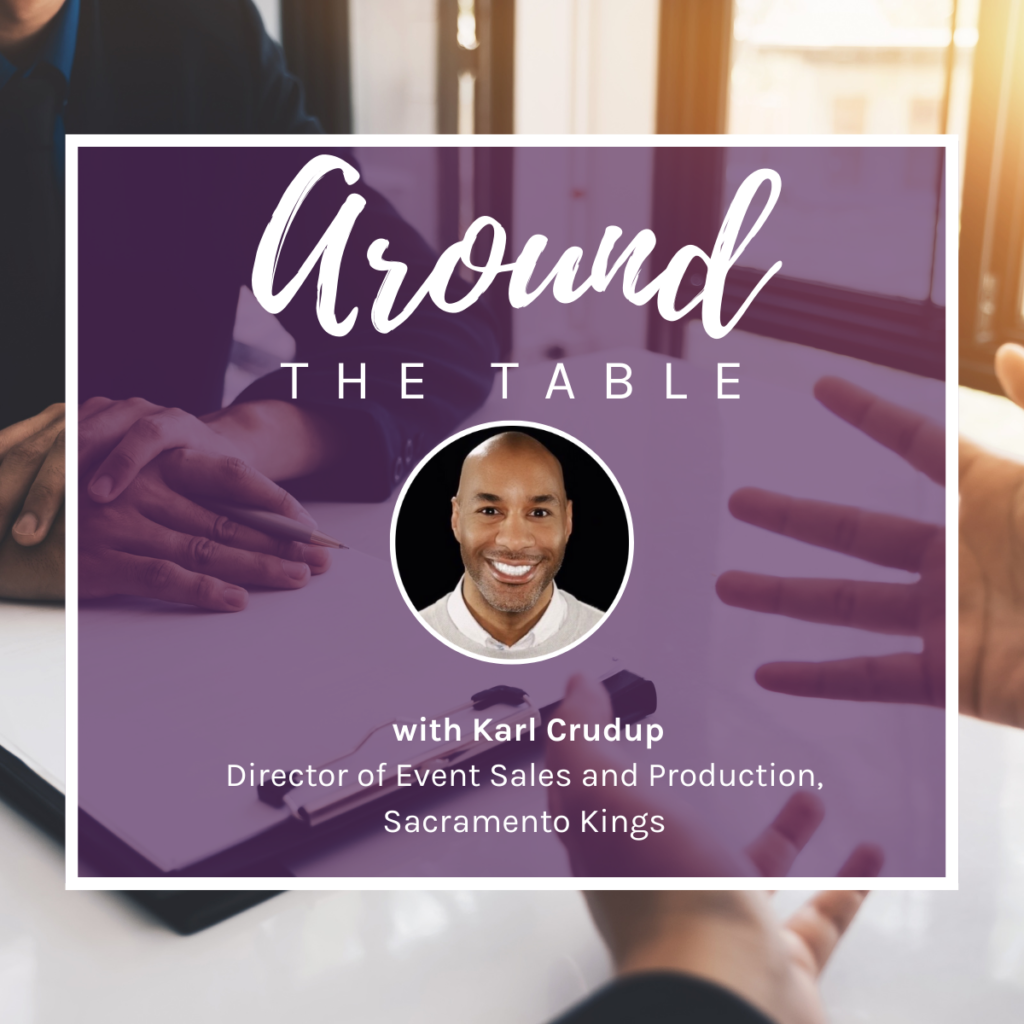 Name: Karl Crudup
Company: Sacramento Kings (Director of Event Sales and Production)
Where to Find You: LinkedIn
What drew you to the world of events and entertainment?
Gosh! It all started in college in a communications program at Old Dominion University (ODU). During my time at ODU, it was helpful for me to be a part of student activities; student council, WODU radio station, chair for homecoming, all those things combined really helped me figure out that I want to live, be, and work in the space of events and experiences. Even as a child, I was more interested in how they were produced, the behind the scenes, and people's reactions to moments. That's what drew me to now, my career and all the steps I've taken… My college experience really set me up well to be interested and get basic knowledge.
What do you think is the biggest challenge the events industry is facing today?
Time is a challenge in terms of meeting the world where it is now. We've been able to survive and thrive in some areas during this time. It has been a challenge to figure out what's on the opposite end of COVID and returning to in-person events and experiences. How does that shape how we are connecting to our fans, members, and partners? What are we doing to set us up for success, as far as engagement on the other side of COVID and coming into this next season? If you're in events, supply chain issues are also a concern. Things like paper, cardboard, and helium, all those things affect us too and can be challenging for us. We don't have big planning windows, so we're always trying to pivot and anticipate future needs as much as possible.
What's the best advice you've received in your career?
The best advice I've received is, "If I'm not continuing to learn and grow, and be challenged in a role, it's time to move to something different." That's been my guiding light for trying to figure out how do I move on and especially when do I move onto something different. In my career I haven't had a traditional path. But every experience along my path has really guided me and I've taken the experiences from every one of my roles and applied it to get where I am today. Knowing when to take a leap and move on to different challenges has worked out well for me.
You want to stay challenged in a role. I want to know, "Am I providing guidance and support for my team in a way that allows them to grow?" I look at [that advice] in a lot of different ways. I am doing it for myself, but I am continuing to be someone my team can lean on to give them resources to grow their careers too.
What is some advice you would give to younger people who want to go into this career field?
Be patient and willing to learn all facets of the industry. Most of the time the only way to do that is to gain experience. I often think that some people like to skip over crucial experiences. My path in events and entertainment, especially in sports, has been a building block of experience. I've had some work experience that wasn't so great—a job or industry that I didn't see myself in. But what I took from those experiences set me up for getting where I am today. It's simple things like, "Hey I don't enjoy this role, but I want to master managing people and relationships," and that can apply to anything. So earlier in my career, I focused on those types of experiences because those would help me grow and challenge me in a way. I didn't see the big picture at that time, but I knew what I wanted to get out of those experiences.
What motivated you to become an advocate for the LGBTQIA+ community?
Working in sports especially, I haven't always felt seen or included…I didn't see a lot of people that looked like me and that's intimidating in any industry. I was excited to be there, but I couldn't see myself emulated in the leadership that was around me, so it was difficult for me to navigate. My work with the Kings Diversity, Equity, and Inclusion (DEI) council, being an advocate, and working in the LGBTQAI+ employee resource group has meant the world to me.
It's a top-down effort and it allowed me to thrive in ways I haven't been able to in the past. For me and others in the organization, that means a lot. Whenever I can I advocate for DEI in the workplace environment because I know what it means for me, and I know how much visibility matters. I appreciate the NBA league and our team's initiatives, that's what inspired me. It's a priority for me and now for all these work sets I'm a part of. It's a direct reflection of Sacramento and the community we serve. That's what drives me for our journey working toward a more diverse, equitable, and inclusive society.
My work here with the team and DEI council has led me to be more active in my own community. I was appointed to the Board of Directors of the Sacramento LGBT center, a non-profit that supports the health and wellness of the most marginalized, advocates for equality and justice, and works to build a culturally rich LGBTQ+ community.
When you are not working, what do you like to do?
I love to travel. I'm a beach bum so if there's a beach involved, I'm all over it. I'm a foodie. I love health and wellness. Now that I'm in California, I've embraced the outdoors and hiking. I consider myself a novice hiker, but I really enjoy the outdoors being able to disconnect and embrace nature. That's what I gravitate to when I get some downtime. And my dog! I have a 15-year-old miniature pinscher who's my world.
If we were literally "around the table" right now, what food would you have brought to share?
I may have brought smoothies. Also, açai bowls! On campus we have Jamba Juice, and they make some really good bowls. So, I would've brought that.