Welcome to Around the Table, a regular series where we talk to people in our network and share the incredible work they are doing in their industry. Pull up a chair and join us for conversation and connection.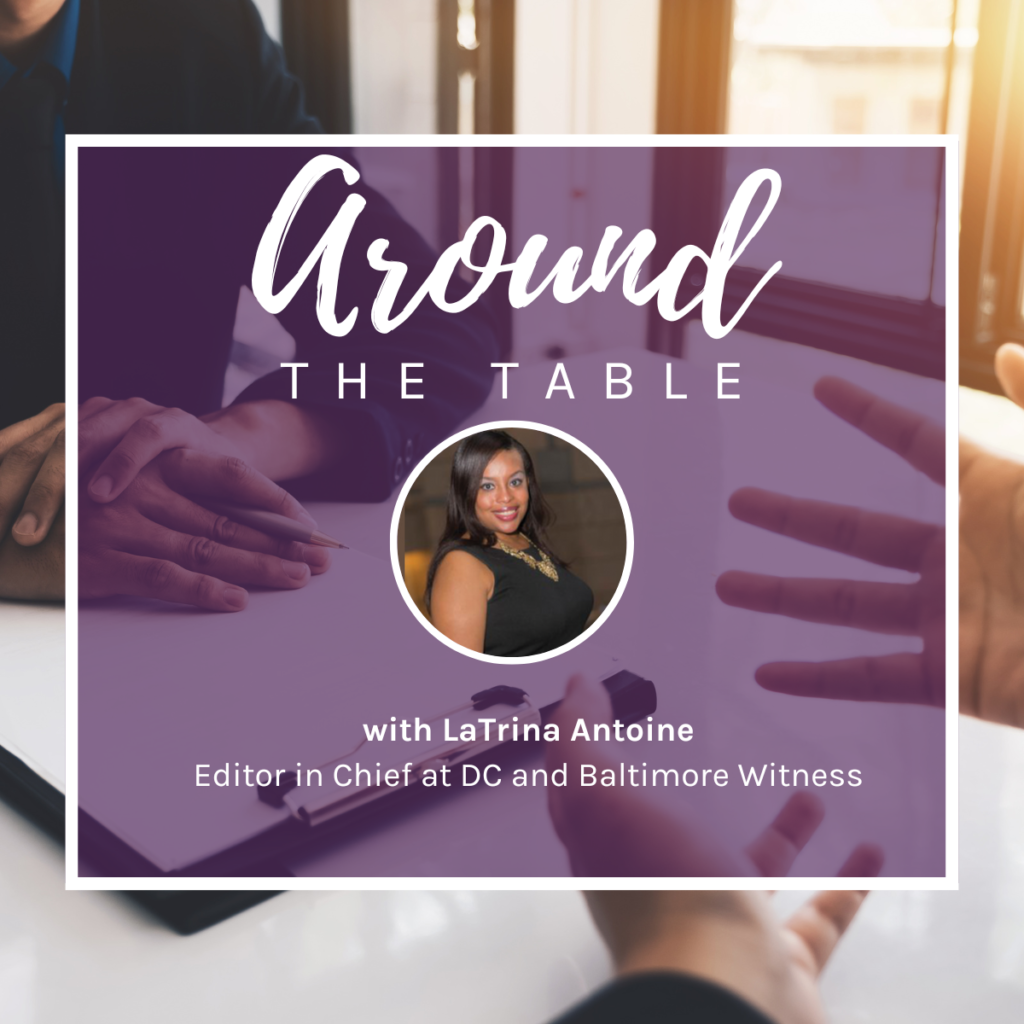 Name: LaTrina Antoine
Occupation: Editor in Chief at DC and Baltimore Witness
Where to Find You: LinkedIn
What inspired you to work in court and criminal justice reporting?
My first career ambition was actually to become a lawyer, so I've always been fascinated with the criminal justice system. I've also sadly been the daughter of a person killed in a shooting, so I know the hurt, pain and confusion that surrounds the system for a victim's family.
Ever since I can remember, I've wanted to be able to know the facts about violent crime cases, especially since I felt I was never really given all the facts in my father's case. American Witness, the parent company of Baltimore Witness and D.C. Witness, enables me to make sure other families get the facts. It won't stop the pain, but at least the facts can answer some questions.
What is your favorite part of being Editor-in-Chief of Baltimore Witness and DC Witness?
My favorite part is being able to manage operations, so that American Witness can keep looking to the future, building, producing more valuable content, expanding and providing exceptional experiences for students.
What is the most interesting or impactful news story you've written or worked on during your career?
Well, I've worked on a lot of news stories during my career, and they've all been impactful in their own specific ways. I don't really have one that sticks out because I always give my very best to the stories I write or edit. I like to make sure that considerable thought and consideration is given to each piece because I can't even fathom how my words or the words in a particular piece will impact the person reading it. Sometimes I've been shocked at how some stories are received, and I think that's because I put so much into getting the full story that I don't see the full impact the story could have until after it's published.
How has your experience as a professor contributed to your journalistic work? Is the role of a professor something you'd like to pursue further in the future?
Being a teacher has impacted my leadership skills in journalism. As a teacher, I've learned patience but also understanding in the different ways students learn. Teaching has helped me understand how students and young adults write and think about the world. Teaching has also let me understand that the way I perceive things isn't how everyone perceives them.
Teaching has also shown me how to be a better manager. As editor-in-chief, I can really see how some of the same tools I've developed as a professor have helped me reach new and seasoned writers.
For example, I used to love class discussions when I was a student, but I've learned that not all students or writers learn through open discussions. Some need to try the assignment and learn from the mistakes. Being a teacher has shown me how to effectively guide writers, both beginners and advanced professionals, not only in improving their final piece(s), but also improving the system they go about to create those final piece(s).
I like helping to guide people to reach their full potential, so yes, I would like to pursue professor roles in the future.
What is the best advice you've received during your career?
Question everything.
Is there a new venture or opportunity on the horizon for Baltimore and DC Witness that you'd like to share?
American Witness is always working on better ways to reach the community.
There is a new venture that we are creating to notify victims or family members of both the victims and suspects of when court proceedings occur. Throughout our coverage, we have seen that many family members and victims are essentially shut out of the process. We would like to help keep them informed about what is happening through a notification system.
If we were literally "around the table" right now, what food would you have brought to share?
Gumbo. Being a New Orleans native, I love savory food that keeps you full and it tastes good. Let's not forget to mention, I love cooking with spices. No better way to give your mouth a party than with gumbo.