Welcome to Around the Table, a regular series where we talk to people in our network and share the incredible work they are doing in their industry. Pull up a chair and join us for conversation and connection.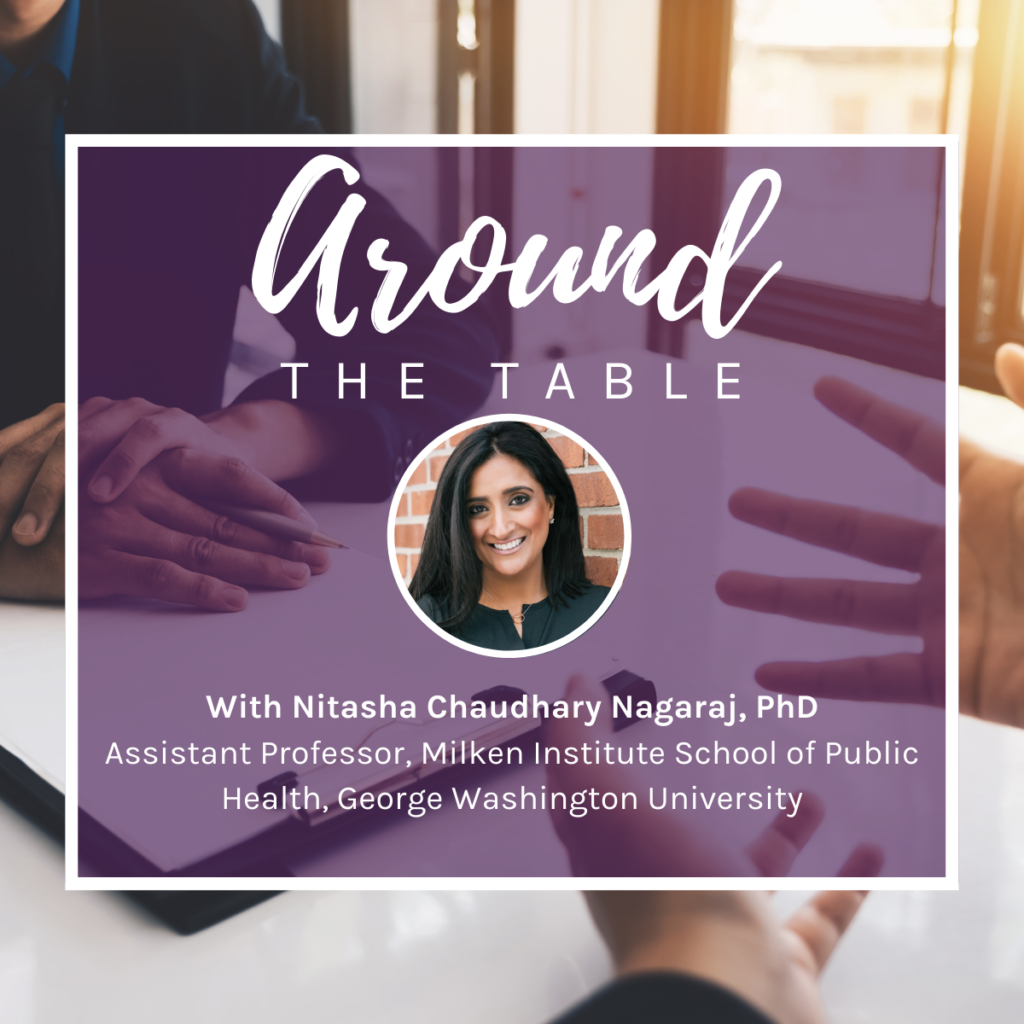 Name: Nitasha Chaudhary Nagaraj, Ph.D
Organization and Role: Assistant Professor, Milken Institute School of Public Health, George Washington University
Where to Find You: LinkedIn
What drew you to the world of public health?
I graduated college in the post 9/11 era where, jobs were hard to find. I landed myself an internship working on issues related to public health preparedness and informatics and how we can better prepare state health departments for future man-made and natural disasters. This led me to pursue a master's in public health (MPH) from The George Washington University. After spending many years working on public health preparedness issues, I moved into issues related to health behavior as I realized my true passion was to understand how populations function, how we behave and how our entire lives (environmental, hereditary, social factors, etc.) impact our health status and the generations after us.
In my current role as an Assistant Professor, I teach courses on Reproductive Health and Evaluation. I also spend much of my time conducting research and evaluation on studies as they relate to women and girls here in the U.S. and in South Asia– better understanding gender norms and attitudes, voice, and agency; and the impact of primary and secondary education on health outcomes such as maternal mortality, infant mortality, child marriage, and violence. I also sit as on the board for Global India Fund (GIF) and the Domestic Violence Resource Project (DVRP).
How has the pandemic affected how public health organizations communicate with their communities?
The COVID-19 pandemic has shed light on how much organizations do not communicate with each other and their communities. There is much misinformation and distrust that has resulted due to the ever-fast-evolving pandemic. I hope as we navigate ourselves and move from the pandemic to an endemic, public health organizations work more closely with their communities to build trust, communicate effectively, and provide equitable resources to everyone so when the next emergency hits us, we are better prepared to respond.
What is a critical lesson about addressing health disparities that you share with your students/future leaders?
You need to listen. You need to engage communities and you need to work at the ground level to understand what the real needs are. We cannot move on health issues without the collective effort of those that need the most help and the only way to do that is to work with those communities vs. telling them what to do. They are the true experts.
What's the best advice you've received in your career?
No one is going to change their behavior unless you meet them where they are.
When you aren't working, what do you like to do?
I love to spend time with my kids (ages 7 and 4, and another on the way), hike, read and binge watch terrible TV.
If we were literally "around the table" right now, what food would you have brought to share?
Anything Indian! There is so much comfort and love in the food, not to mention it is SO delicious.