Welcome to Around the Table, a regular series where we talk to people in our network and share the incredible work they are doing in their industry. Pull up a chair and join us for conversation and connection.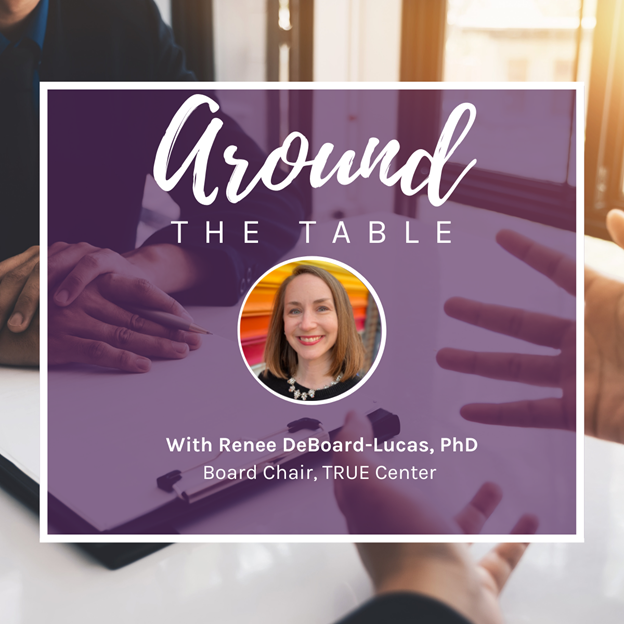 Name: Renee DeBoard-Lucas, Ph.D.
Company: TRUE Center
Where to Find You: Facebook, LinkedIn, and Instagram
What is TRUE Center?
TRUE Center is a trauma-focused mental health organization whose mission is to increase access to affordable, trauma-focused, evidence-based care and prevention for DC-area children and families. Starting this fall, we will offer a variety of intervention and prevention services for children, families, community members, and professionals in the DC area. We will provide:
Consultations to help families answer questions about their child's response to trauma
Child and family therapy, that is shown to work with children who have experienced trauma.
Cognitive-behavioral treatments designed to eliminate and prevent incidents of what is known as 'problematic sexual behaviors' in children
Assessments and interventions to help immigrants heal and thrive
Informational sessions for caregivers and community members
Training presentations for professionals
We launched officially this week and are excited to continue preparations to support services this fall.
What inspired you and your fellow co-founders to create TRUE Center?​
At TRUE Center, we believe passionately that all children deserve access to affordable, effective trauma treatment. Although nearly half of kids and teens in the D.C. area have experienced trauma, we were seeing that most children who need mental health support in the aftermath don't receive it. We've seen that it can be hard for families to get trauma support due to expensive services, inaccessible hours and locations, and ineffective treatments, all of which are impacted by systemic and structural racism. This is where we hope TRUE Center comes in.
We're making a space where families can more easily find the support they need and get treatments that work. We train others to help, making our schools and communities more trauma informed. TRUE stands for Trauma Resilience Understanding and Education. Our name not only reflects the services we provide but also our commitment to provide every child with effective, compassionate care and the space to share their truth.

What kind of impact do you hope TRUE has in the Washington D.C. community?
At TRUE, we know that the pandemic has amplified existing inequities in access to healthcare. In the DC community, we are hoping to make it easier for neighborhood kids and families to connect to trauma services, to help answer parents' questions about their kids' reactions to trauma, to empower kids and teens to talk about their experiences and develop tools for coping, and to train professionals so there are more people providing trauma-informed care.
How can readers who support TRUE's mission get involved?
There are lots of ways to get involved at TRUE! We are looking to expand our Board and build our volunteer base. We love meeting new people who are passionate about increasing access to care and to treating and preventing trauma in kids. And as a developing agency, donating is crucial to helping us grow, so we can begin providing services to kids and families in the community. Visit our website or connect with us on Facebook, LinkedIn, and Instagram to learn more and get involved.
What's the best advice you've received in your career?
"Be yourself." When I was in graduate school, I was trying too hard to emulate how I thought a clinician should act in a therapy session. I had a supervisor who pointed out to me that she wasn't seeing my personality in the therapy sessions that she saw in our other interactions. Once I took her advice to be myself, I found my own footing. It's important to me now to maintain that long after grad school. I find that I connect best with the kids and families I'm working with when I'm being my authentic self.
When you aren't working, what do you like to do?
I love spending time with my family and friends. I love being outside, traveling, and reading a good book!
If we were literally "around the table" right now, what food would you have brought to share?
I would bring cinnamon rolls or donuts from a local bakery I love.