It's been quite a wild journey! While new to owning a business, Amanda and I have known each other and worked together for more than a decade. We launched Avid Core with a solid understanding of our individual strengths and weaknesses and our established working relationship allowed us to have frank conversations and make calculated business decisions quickly. We kicked off our first year eager to endure the growing pains of entrepreneurship, but nothing could have prepared us for the bumpy road ahead.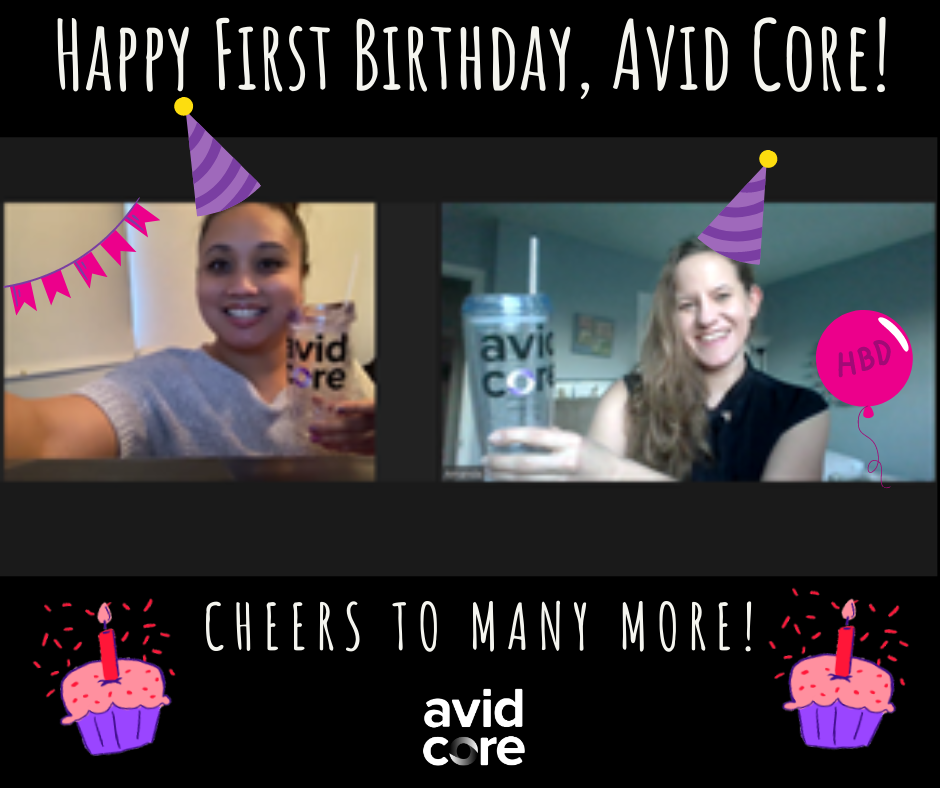 With stay-at-home orders in place, our personal and professional worlds collided as we facilitated difficult client discussions with toddlers dancing to "Baby Shark" in the background. We developed and implemented company policies, while managing our own at home to protect our loved ones from the deadliest pandemic of our lifetime. We executed outreach strategies to disenfranchised stakeholders, while our nation continued to grapple with the pain and consequences of institutional racism and social injustice.
Like so many of us, we have done our best to face adversity and recognize the privilege and responsibilities we have as business owners and employers. There are still many lessons to learn through this journey, but this year proved our personal and professional perseverance.
So, what have we learned? What does the next year hold for us?
People and Partnerships
From trying to keep in touch with family and friends, to protecting and helping the most vulnerable in our communities, we have had to get creative to stay connected. Social distancing has taken its toll, yet it remains that there is much more to be gained through maintaining strong relationships, developing collaborative partnerships, and just generally helping others.
While our strong foundation and friendship made the transition to operating a business remotely a bit easier, building our company culture and team has been difficult. We find ways to build relationships with prospective staff in advance of hiring. We have had to tailor our recruitment strategy and rely more on our intuition to determine if someone not only has the right skillset but is also the right fit for our "core".
Despite the hurdles that come with a new small business being forced to work remotely, we have adapted. It has allowed us to be flexible in the types of work we pursue and is valuable in many circumstances, whether it is a small, one-time project or a large effort with full-time employees. We are exploring long-term volunteer opportunities to help our neighbors and enhance our public spaces. We will also be reaching out to potential partners who share the same creative and collaborative spirit.
Expanding our network has been difficult with not being able to attend networking events and meet new people. Instead, we've mastered the various types of digital outreach tools (ex: Zoom, WebEx, Teams, Meet, FaceTime & GoToMeeting) to help us stay connected. Despite the distance, we look forward to hosting more virtual discussions in 2021. Please reach out if you want to connect and do not be surprised if you receive an email or phone call from us!
Certifications
We are close to receiving our Virginia Disadvantaged Business Enterprise (DBE) and Small, Woman, and Minority (SWaM) certification. This year we will be looking to expand our DBE certifications in other states to add value to projects looking for innovative ways to enhance communications and public involvement while meeting small business goals. At the federal level, we are in the queue to receive the Small Business Administration's Economically Disadvantaged Woman-Owned Small Business (EDWOSB) certification, and we are working toward eligibility for the 8(a) program. We look forward to leveraging new and existing relationships with federal, state, local, and private partners to utilize these certifications. If you would like to discuss potential partnerships under these programs, let us know!
Diversity, Equity & Inclusion
Over the last year we have witnessed a historic call to action around the world to address the need for real change in unjust practices and policies, to admit that racism lurks within our institutions, and to accept the challenge that comes with dismantling it. As a woman- and minority-owned small business, we take our responsibility and commitment to this call to action seriously. We pledge to create a company culture and workforce that reflects the rich diversity that makes us such a powerful nation. While we have taken steps to fulfill this pledge, we will continue to work with subject matter experts to routinely evaluate and refine our policies and procedures, cultivate a dialogue within our team to openly discuss difficult and uncomfortable issues. We are committed to developing solutions for those issues to be addressed.
In our work, we have always looked to employ environmental justice practices and expand culturally sensitive outreach and communications strategies to communities. We have been working with thought leaders to combine their organizational development and training expertise with our expertise in communications and outreach to create a DE&I program that is reflective of authentic experiences and equips organizations with the communications tools needed to implement their plans. Stay tuned for more on this initiative later this month!
We are ready to build off the momentum of an exciting, yet tumultuous first year. Despite the hurdles, like all of you, we showed up and overcame the obstacles. We grew our existing work. We won new work. We grew our team. And now, we look forward to the road ahead!
— Virginia Quiambao Arroyo & Amanda Roberts