Avid (adjective) – having or showing a keen interest in or enthusiasm for something. It's more than just our company's namesake. Passion for our work and for the things we love is part of our core values. Each month we'll share some of the things we're Avid Fans of with you.
July 18 is National Ice Cream Day and we're celebrating here at Avid Core! While this time of year leaves us craving a scoop of ice cream to cool off, we don't need an excuse to enjoy a dessert that satisfies the sweet tooth in all seasons of the year.
Ice cream used to be created mainly with whole milk, and the classic chocolate, vanilla, and strawberry flavors were typically the only ones around. This once-simple dessert has become increasingly versatile with coconut or oak milk-based foundations, organic, sugar-free, and vegan options, and just about any flavor imaginable. Whether you prefer a creamy texture or a light and fluffy consistency, nobody can resist the joy and deliciousness ice cream will bring. Here's the scoop on some of our team's favorite flavors and the ice cream shops that we can't resist.
Amanda – Cinnamon!
It's so hard to choose my favorite, but the only flavor I've actively sought out and had a hard time finding is cinnamon (thanks, Wegmans, for coming to the rescue). I've had to be dairy free for the past year, and there are many great dairy-free ice creams now that are made with coconut milk, cashew or almond milk, and sunbutter. So glad the ice cream industry is on board with expanding options for those with dairy allergies!
Ashley – Blue Bell's Homemade Vanilla
I'm going to go back to my roots for this one. As a native Texan, the only answer to this question can be Blue Bell's Homemade Vanilla. It has everything you can ever need in an ice cream – delicious flavor, creamy texture, and a heavy dose of nostalgia. It tastes like school field trips to the creamery, childhood birthday parties, and a hug from mom.
While Blue Bell offers many delicious flavors (Hello Mardi Gras King Cake flavor!), you simply cannot go wrong with a bowl of homemade vanilla. Eaten by itself or topped with M&Ms, chocolate chips, or Oreos, it's my favorite ice cream by far.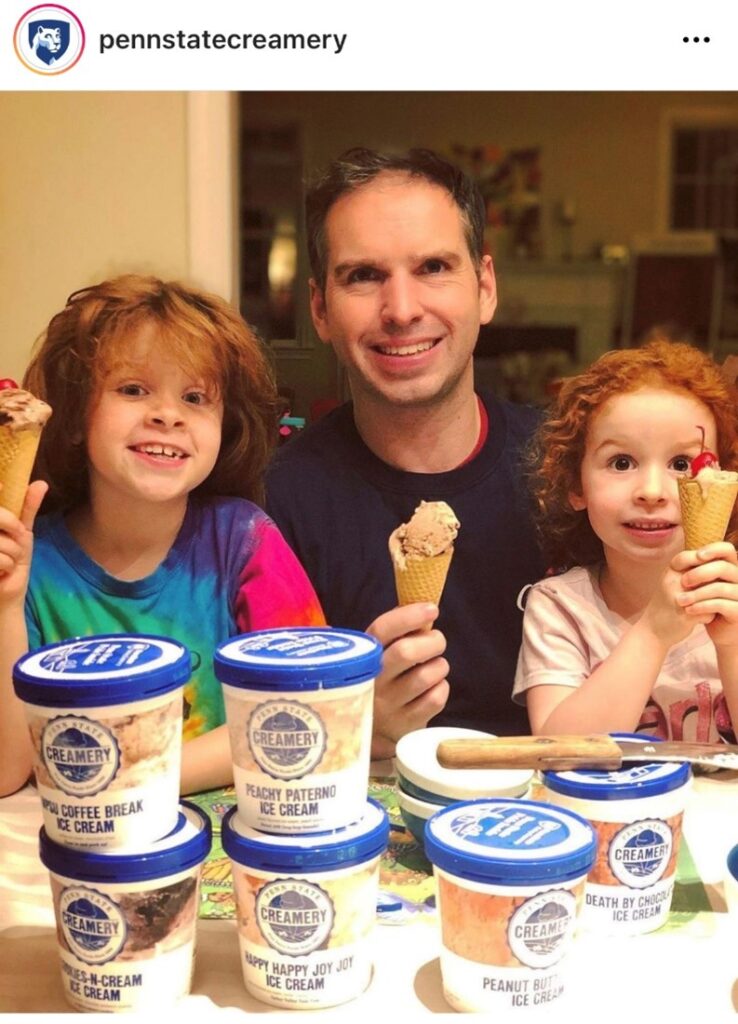 Stephanie Mace – Penn State's Berkey Creamery
We take the "best ice cream" award very seriously in my family. My daughters were raised to believe that Penn State's Creamery ice cream is the best and there will always be a bottomless supply of their favorite flavors stocked in Nana & Poppa's freezers. It is a delicious treat on a hot day or post-tailgating. Every Penn State alum will be quick to tell you that happy cows are raised in Happy Valley and Ben & Jerry (yes, the Ben & Jerry) received their ice cream education from Penn State in 1977. While I can't dispute the facts, I am on a mission to fill up my ice cream passport and learn all about the delicious types of ice cream out there!
Michael – Amorino Gelato
In July 2013, I traveled to Europe with my best friend and while in Paris and Rome, we stumbled across a gelato shop called Amorino. Within seconds after my first bite, I understood why this chain has expanded to nearly 200 locations worldwide (and 13 in the U.S.). Its signature is its rose-shaped gelato, but the rose shape never holds its form for long because it's just too good not to dive right into.
When we came back from Europe, we thought we'd never taste Amorino again because we thought it was only a European gelato chain. Two years later, we visited friends in New York and randomly saw one store while walking around Manhattan. All the feelings of nostalgia from the greatest adventure of our lives took over just by reading the sign and multiplied as we dove into sweet tooth heaven. Every gelato cone we eat from Amorino will always bring back that happiness into our hearts and our taste buds.
Andrew – Raspberry Sorbet
My family made a quick stop on my first trip to DC — long before I knew I'd be living here — at Larry's Cookies and Ice Cream, where I had the raspberry sorbet. It was life changing! I've never had much of a sweet tooth for chocolate/caramel/etc., but I do like fruit-flavored ice cream. I haven't made it back to Larry's recently, but raspberry sorbet is still my favorite and now I have a couple of go-to brands at the grocery store.
Virginia – Ube/Halo-Halo
We're all fans of ice cream in my house. Ice cream sandwiches, soft serve, traditional, blizzards, McFlurries…you name it! The ice cream man even pulls into our driveway because nine times out of 10, we're buying! It is hard to choose a favorite so I'll represent the Filipino favorite — Ube and Halo-Halo. Ube ice cream is a Filipino ice cream made from purple yam as the main ingredient and it is the center of stage of Halo-Halo, a popular Filipino dessert!
Tremayne – Vanilla Ice Cream
After discovering the churro dog last year while watching the Arizona Diamondbacks game, I can no longer deny having a sweet tooth. I've always enjoyed sweet treats like donuts and churros, but it took a genius to think of pairing them with three scoops of creamy vanilla ice cream. This Chase Field exclusive fuses these satisfying treats into a beautiful granular creation and I think it's the vanilla ice cream that brings everything together. Can anything ever go wrong with vanilla ice cream?