Avid (adjective) – having or showing a keen interest in or enthusiasm for something. It's more than just our company's namesake. Passion for our work and for the things we love is part of our core values. In this recurring series, we'll share some of the things we're Avid Fans of with you.
Barbie and Oppenheimer both premiered on July 21, 2023, sparking "Barbenheimer" – an internet phenomenon that led to countless memes, articles, and even its own Wikipedia page. Whether you're on "Team Barbie" or "Team Oppenheimer," one thing is certain: in an age of endless sequels, prequels, and remakes, two well-made, stand-alone films are something to celebrate.
For this edition of Avid Fans Of, the team weighs in on which of the two films they watched and what they thought. Bonus points for seeing both!
Ashley – Barbie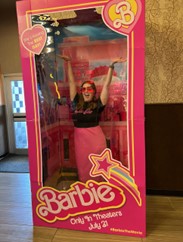 I had been eagerly anticipating the Barbie movie since I first heard about it! From Greta Gerwig to the entire incredible cast to the amazing teaser trailers and songs that were released, I could not get enough and was so ready to watch! I have always been obsessed with the color pink and Barbie brings me right back to my childhood.
When the movie came out, I was visiting my parents and my mom planned a special outing for us to see it together. She got us matching t-shirts, made themed treats, and pulled out her vintage Barbies from the 1960s. The movie had such sweet mother-daughter moments that it was really special to have that time together. I watched it again with friends a week later and it was cool to pick out entirely new moments to love!
Ruby – Barbie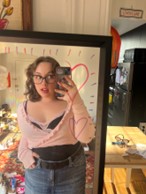 My friends and I had been talking about Barbenheimer for months, debating whether to watch them both on the same day, which order to watch, etc. I did end up seeing both films, but definitely not on the same day. I have major respect for anyone who did watch both films in one day, especially since I couldn't imagine watching anything after watching Oppenheimer but ending on that note would be a bummer so it must be watched first, in my opinion.
Although I was actually a bit disappointed by Barbie, since for me it didn't feel as provocative as others had made it sound or go any deeper than conversations about girlhood I've been having since 6th grade. Putting that disappointment aside, I am still team Barbie. Oppenheimer was good, don't get me wrong, but at the end of the day it was just a movie to me. The actors were good, especially Emily Blunt, there were some cool shots, and it kept me surprisingly engaged for such a long film. However, it didn't really do anything many other movies have done before to me, feeling like a bit artsier version of yet another film about genocide from a white man's perspective, which frankly we do not need any more of. Although Barbie wasn't as women centered as I had hoped for, it was still incredibly heartwarming seeing so many girls' positive reactions to the film and walking into a movie theater filled with people dressed in pink. Barbie truly had an impact so what more can you say other than Barbie is everything and Oppenheimer is just Oppenheimer.
Rossana – Barbie
I can't say I watched Oppenheimer (even though I love Florence Pugh), but I RAN to watch Barbie and it delivered as promised! Within the first 5 minutes, I was crying from just feeling the empowerment. I think I can go on and on about that, but I'll save you the speech. The vibes were immaculate, and you could just tell who was going to be in the theater with you because in the crowd of Barbie and Oppenheimer folks waiting to buy popcorn, you could see all the pink just highlighted in the sea of people.
Every single person in the full theater room for Barbie was in pink. I used the bathroom before the movie began and saw more folks in pink, and we'd all greet each other by saying "Hi Barbie!" Greta Gerwig, Ryan Gosling, and Margot Robbie did a great job. I could even see moms and dads in the audience proudly wearing pink with their kids. I think the movie did a great job of touching on some very real and very relevant themes while adding comedy and light-hearted touches. AND to add more to the great movie, the hair and wardrobe on Margot Robbie was amazing! I even spotted Barbies I had (including weird Barbie) and accessories (like the pink convertible).
Susan – Barbie
I was so excited to watch the Barbie movie when I heard it was coming out. I was definitely a "Barbie girl" growing up. I had so many dolls, movies, and a Barbie dream house. I still watch Barbie; I watched all the new Barbie shows and movies on Netflix. So, I was so happy seeing it in theaters.
I thought it was such a great movie, the whole cast was funny and silly. Margot Robbie was perfectly cast for Barbie, she was amazing in the role. My favorite scene was the "I'm Just Ken" musical number. It was just outrageous and random but that's what made it great. I was stuck singing that song for a week after. On that note, I thought Ryan was great as Ken. I was just a bit disappointed with the Ken they gave us because I know based on my "extensive" Barbie knowledge that Ken would never do what he did in the movie. But it was still fun to watch how they made it work between Ken and Barbie. The last thing I loved about the whole experience was just how excited everyone was to dress up to watch the movie. Everyone was wearing pink or even going all out wearing actual Barbie outfits from the movies or the dolls.
Alex – Oppenheimer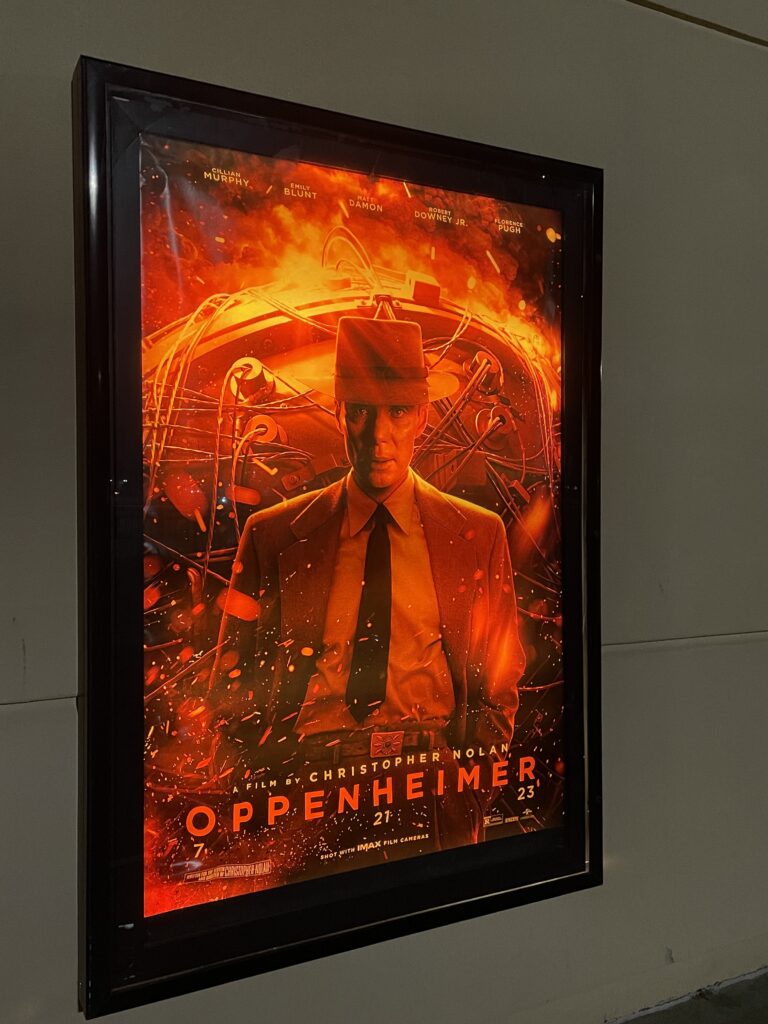 I was looking forward to seeing Oppenheimer since the first time I saw the initial trailer on YouTube. I hadn't heard anything about Christopher Nolan's next film, so the trailer was a complete (and pleasant) surprise! The movie is full of masterful performances. The film's main characters, J. Robert Oppenheimer and Lewis Strauss, are brought to life, respectively, by the hypnotizing Cillian Murphy and a particularly slimy and villainous Robert Downey, Jr. Several of the supporting characters, like the kind and patient Isidor Rabi, portrayed by David Krumholtz, and the wry, no-nonsense General Leslie Groves, played by veteran movie star Matt Damon, helped define Oppenheimer's complex life and intense personal journey.
Oppenheimer treats intimate moments with broad, immersive strokes and focuses on large-scale issues with deft stylistic and narrative skill. By the end of this three-hour character study, a massive existential dilemma is illustrated, debated, and finally visualized with striking pathos and visual ingenuity. The events surrounding the creation of the atom bomb are told with drama and tension, buttressed by a moody, electrifying score by Ludwig Göransson. The film's complicated, at times thrilling, at times somber story is a detailed glance back in time to when the world changed forever. Conveyed through strong thematic threads, as well as some unique surrealist imagery, the film involves the audience completely in its protagonist's internal conflict, palpably punctuated by equal parts passion, intellect, curiosity, fear, and guilt. As someone who loves biographical dramas and practical filmmaking (Oppenheimer used very little in terms of digital effects, opting for composites of real explosions and in-camera depictions of light waves and particles), the movie provides a deeply humanist view of its subject matter and, at the same time, holds up a mirror to both the beauty and brittle nature of our lives on planet Earth.
Stephanie – Barbie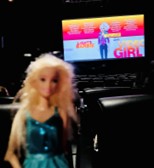 We waited for a month to enjoy the Barbie movie as a family. My older daughter came home from camp with a choregraphed dance to Dua Lipa's "Dance the Night" song and excitedly asked us if we could go that night to see the movie. I took advice from my colleagues, which means we dressed in pink, blasted the soundtrack to the theater and ordered all of the pink snacks available. We even brought my daughter's favorite Barbie (in blurred picture) to enjoy the dance sequences and suite of Barbie products placed in the movie.
I had high expectations. I'm pleased to admit that this film went above and beyond what I envisioned. It surprised me in many ways. The cast is obviously perfect. The messaging is powerful. I love that the writers/producers/directors weren't afraid to poke fun at Mattel and our society's stereotypes. I can't wait to watch this again with the Barbie lovers in my life and recite our favorite lines. I'm looking forward to many sequels. And Mattel/Greta/Kate McKinnon – can we please get a spinoff of Weird Barbie asap!?
Amanda – Barbie 
I was obsessed with Barbie as a young girl. I had tons of clothes and dolls. Seven-year-old me would have sold my soul for a Barbie dreamhouse. But I distinctly remember the year Barbie fell out of favor with me. I was eagerly opening Christmas presents when I opened a gift from my grandmother, and my eager face fell as the wrapping gave way to a Barbie box. Ew. Barbies are for little kids, my eight-year-old brain probably thought.
In a lot of ways, my experience as a little girl mirrored Stereotypical Barbie's story arc in the movie—perfectly fine and happy until growth changed her perspective on what makes her happy. To that end, it was a good watch, loved the music, star-studded cast, and made me question the role I play in reinforcing the patriarchy as a business owner, wife and mother, and active volunteer with young children. I would share more on that, but I have to run, Existential Crisis Barbie is knocking at my door.