Avid (adjective) – having or showing a keen interest in or enthusiasm for something. It's more than just our company's namesake. Passion for our work and for the things we love is part of our core values. Each month we'll share some of the things we're Avid Fans of with you.
With autumn comes the red and orange leaves, pumpkin flavored items, sweaters and scarves, and the spooky season. There are so many scary movies, Halloween candies, and pop-up costume stores to choose from. This month we wanted to share our team's most memorable costumes. Read on, if you dare!
Angel – SpongeBob
As a child, I was obsessed with the anime TV show Sailor Moon. I was destined to be Sailor Mars for Halloween while my older sister strived to be Sailor Jupiter. What two young girls didn't want to be crime-fighting female superheroes with control over the elements? So, we begged and begged our dad to buy us Sailor Scout costumes to which he happily agreed. Trick or Treat time came around and we went to our dad's house to put on our costumes. My dad pulls out our costumes and my face of pure excitement quickly changed to one of despair and confusion. My dad pulls out two large SpongeBob SquarePants costumes. Due to the language barrier, my dad did not understand exactly what we wanted to be and honestly thought we wanted to be SpongeBob and Squidward for Halloween. My sister was so upset the Squidward costume fit her well!
Ashley – Netherworld Waiting Room
I never pass up an opportunity to get into character and I've had many memorable costumes through the years. But I really stepped it up for Halloween 2020 because I needed to find a way to distract myself from the pandemic. A friend of mine decided to throw a backyard movie night on Halloween, setting up the projector to watch Beetlejuice, and I knew I needed to make sure my outfit went with the film.
I went as the magician's assistant who was sawed in half. I threw myself into crafting, trying to figure out how to create a "couch" that would hold the fake legs without being too heavy. I spent a whole night watching scary movies and shoving stuffing into blue pantyhose. While they didn't go the crafting route, my husband and dog also joined in in the waiting room theme, going as the diver who died in a shark attack and a member of the football team that died in a bus crash. Beetlejuice is a seasonal favorite of mine and our Netherworld Waiting Room costumes will always stand out in my mind.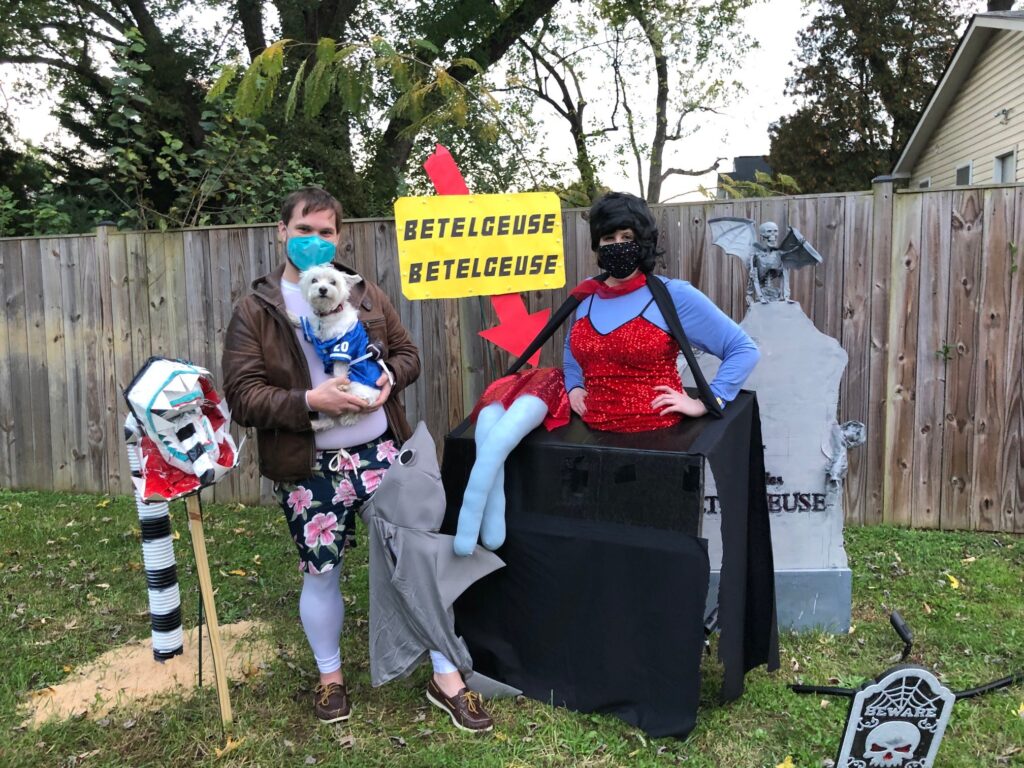 Trevor – The Dreaded Skunk
In my family, tradition is everything. From what we eat on Thanksgiving to the clothes we wear during a New Year's celebration, the traditions have become endless. While most of these traditions are fun and exciting to remember, there is one tradition that all children in my family dread and shudder to remember. Instead of a classic pirate, ninja, or butterfly costume during our first memorable Halloween, the selected child would have to wear something stinky. Our black and white skunk costume became a tradition almost 50 years ago to showcase the newest addition to our family's trick-or-treating party. Now this memory seems funny, but in the moment, I could not help but dread walking from house to house in such a worn down and smelly (no pun intended) costume that unfortunately became a beloved tradition.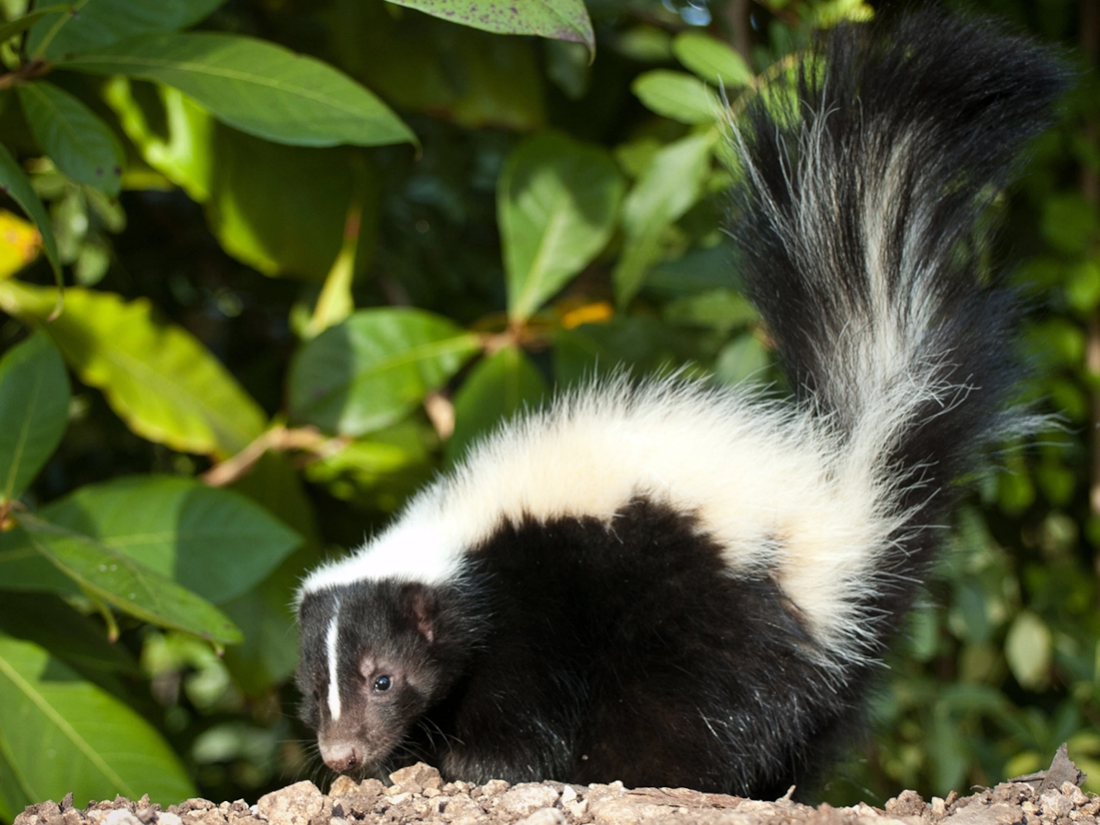 Amanda – Squirrel Girl
In 2018, theme bars were all the rage. Someone created a mediocre pop-up bar with a Marvel theme, and I chose to go dressed as Squirrel Girl. I first learned of Squirrel Girl through the LEGO Marvel Superheroes game. She has the amazing ability to summon squirrels to do her bidding, and, as she is one of the more powerful characters in the game, I knew I wanted to be her for this outing. While the bar was somewhat of a bust, I had a blast with my friends and ended up using the costume a bunch of other times. Whenever I wear it, I get stopped for pictures by those who know Squirrel Girl is the best Marvel superhero.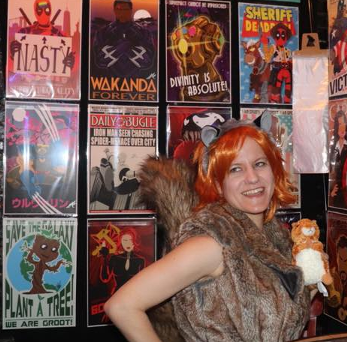 Virginia – Edward Scissorhands
I have to admit that I'm not very festive in general. I can count on one hand how many times I've donned a costume for Halloween as an adult, or for any occasion for that matter! So, I really have to dig deep and channel the creativity around me to ensure my kids aren't deprived of Halloween or the appropriate season's holiday fun! Thankfully my friends are much more creative than me and the one costume that goes down in Halloween history (even six years later) is my dear friend's daughter, Frankie Simone as Edward Scissorhands! Her mom is one of my favorite people on this planet and it's no surprise that her magic manifests through her mini-me!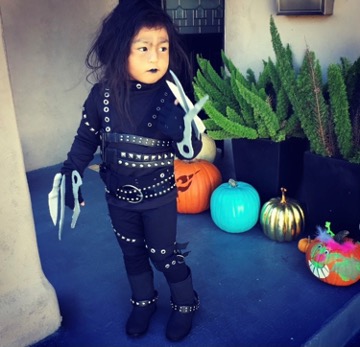 Tremayne – Little Pumpkin
Halloween is right around the corner, and that means it's time for adorable baby costumes. My daughter's first Halloween last year was a difficult one because of the endless costume choices. I spent a lot of my time searching for that right outfit. Although I don't think I found the perfect costume, I think any tiny human dressed up as a Disney character or furry animal is adorable. We ended up choosing a pumpkin costume for the added insulation on a cold night of trick-or-treating, and I think it was the cheeks that made the outfit.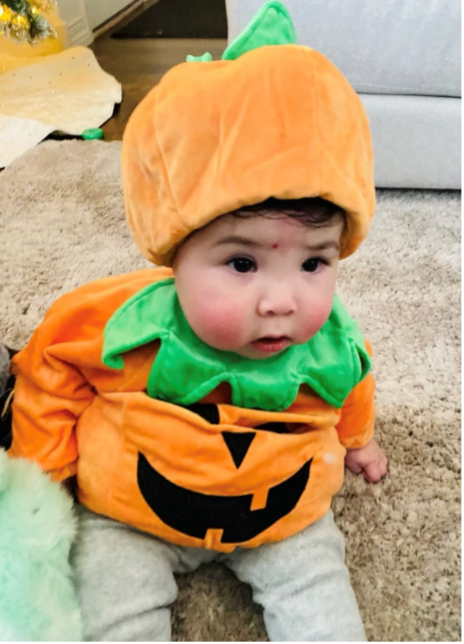 Stephanie – Superheroes
Since my husband Bevan and I met at a Halloween party many years ago, it was inevitable that our kids would love themed costumes for the whole family. My daughter Isabelle was going through a Girl Power Superhero phase which meant she (also known as Super Girl) assigned costumes to each family member. Bevan was Captain America and carried Batgirl Sophie around for her first Halloween. I had the privilege of dressing as Wonder Woman, which meant I got to hold the golden leash for TJ the Wonderdog.