Working with local organizations already serving your community can be a great way to reach historically underserved populations. Trusted partners can amplify information about public engagement efforts and encourage their memberships or the people they serve to get involved.
One way to make it easier for partners to share your information is to package up the resources and information into what we call a partner toolkit. A partner toolkit is a repository of resources designed for local organizations, your community partners, to share easily with their members and/or followers.
The specifics of the toolkit vary depending on the subject matter, your community, and the needs of your partners. Content could include:
Sample social media posts
Social media graphics or videos optimized and sized for Facebook, Instagram, Twitter, and LinkedIn
Sample newsletter text
Sample email copy
Downloadable flyers, posters, or postcards
Talk to your community partners about what they need to best share this information and which channels are most effective. Partners may also mention languages they would like to see materials translated into and you should explore the feasibility of providing those options.
You'll also want to think about how to best host the elements of the toolkit. Consider a shareable Google Doc with all the information in one place or creating a hidden page on your website to host the various materials.
Your next consideration is the delivery of the toolkit to partners. I strongly recommend personalized messages to each community partner, highlighting the materials and sample content that is most applicable to their organization and audience. While sending a mass email can work, a personal touch is more likely to get better results and to build your relationship.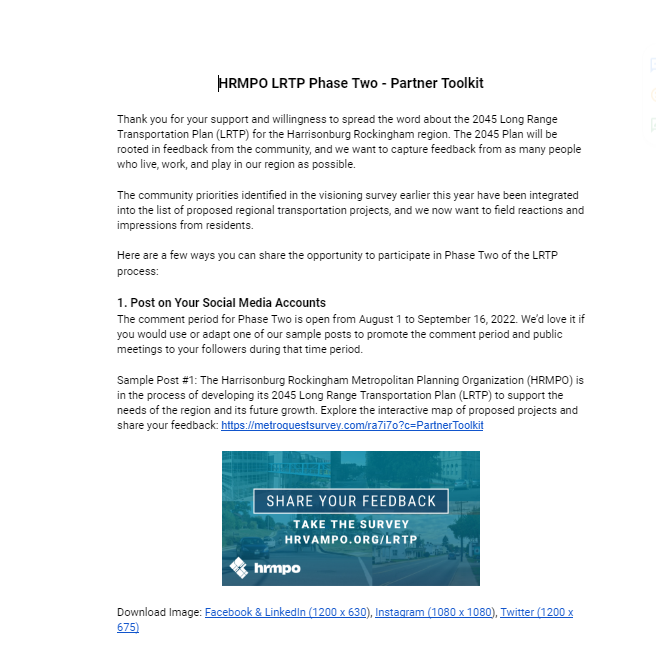 We created a partner toolkit as part of our work with Harrisonburg Rockingham Metropolitan Planning Organization (HRMPO) that included social media materials and sample email text in English, Spanish, and Arabic. Ann Cundy, HRMPO's Director of Transportation, said it was one of the most effective tactics implemented.
"Personal emails to community partners with a link to the partner toolkit of ready-made materials to share took a little more time than an email blast with a blind copy, but also netted us increased responses and participation," Cundy said.
"Our biggest survey response days always aligned with community partners doing a social media post or email blast." 
You should be prepared to close the feedback loop after the public engagement period you promoted with the partner toolkit is closed. Let your partners know how much you appreciated their support and how the information shared by the people they serve made a difference.
While a true partnership goes beyond information sharing, developing a partner toolkit can be a great way to start working together and to learn more about what communication channels your community prefers. 
Interested in building relationships with local organizations in your community? Let's chat!