Avid (adjective) – having or showing a keen interest in or enthusiasm for something. It's more than just our company's namesake. Passion for our work and for the things we love is part of our core values. Each month we'll share some of the things we're Avid Fans of with you.
In the era of COVID-19 and social distancing, outdoor walks, runs, and hikes are some of the best ways to spend time. This month we're sharing the trails we're loving across the nation and abroad.
Virginia – Andrew Leitch Park Trail, Dale City, Virginia
I recently came to know of a trail that is part of a park I grew up frequenting with my siblings and friends! My husband and I are fortunate enough to live in the same city we both grew up in. A few months into the pandemic, we set out to explore all the trails "official and unofficial" that he biked through the years. Andrew Leitch Park is home to Waterworks Park, a summer staple if you grew up in Dale City, Virginia. It is also home to a beautiful four-mile trail that leads to the main road by my house. Our toddler loves running over the pedestrian bridges and splashing through the creeks. I look forward to running the trail this summer and I'm thrilled to know that there are expansion plans that will provide pedestrian and cyclist access by connecting trails around Andrew Leitch Park and another childhood staple, the Sharron Baucom Dale City Recreation Center. I look forward to enjoying these trails with my family for years to come!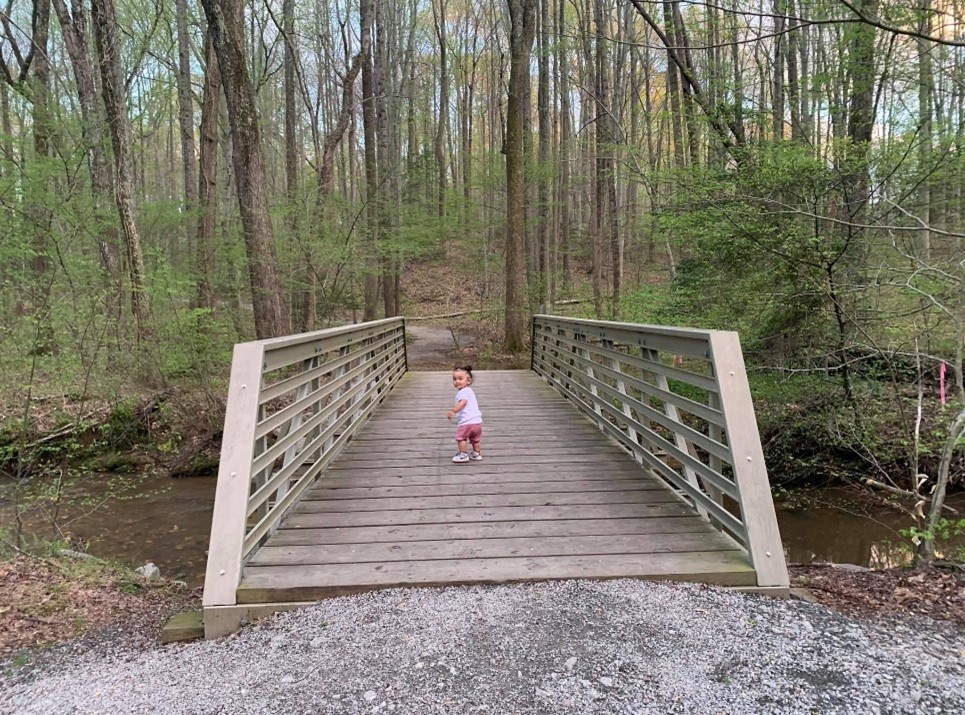 Amanda – Flatlick Stream Valley Park Trail, Chantilly, Virginia
Flatlick Stream Valley Park abuts my neighborhood and consists of both wetlands and serves as a floodplain. It also includes a paved trail that runs alongside Flatlick Branch. Despite being so close to houses and businesses, the trail is often a place of solitude—it seems like we rarely cross others and that's perhaps also why it's been a place of rare (for me) wildlife sightings. We've seen water snakes, foxes, moles, plenty of birds, fish, and clams. Recently, beavers have moved in. The trail offers options for foraging (berries, mushrooms, and wild onions), as well as beautiful wildflowers. I consider myself lucky to have access to such a beautiful resource and try to be a responsible steward. My family spent the Martin Luther King Jr. Day of Service out at the trail cleaning up the litter that ultimately collects from serving as a floodplain, and, just this week, we helped clear the trail after a tree fell blocking the path. It's wonderful having this treasure in my backyard.
Stephanie – Shining Sea Bikeway, Falmouth, Massachusetts
A bike trail with a beach and ice cream shops?! Count us in. After quarantining for five months in 2020, my adventurous family decided we need to explore new trails. We excitedly packed up our bikes, helmets, and gear and headed to Cape Cod for the first time. The 10.7-mile Shining Sea Bikeway follows the route of a former railroad that provided service from the Cape to New York and Boston from 1872 to 1965. The Rails-to-Trails Conservancy's site provided the background information we needed to plan our day. Bikers of all ages enjoyed spotting the wildlife, going over the bridges, and finding relaxing places to take a water break with a gorgeous view. The trail captured the beauty of Cape Cod and was extremely family friendly. In fact, our youngest sped along on her balance bike receiving compliments from fellow bikers that boosted her confidence. We fulfilled our promise to have lunch on the beach, stack rocks, and dip our toes in the refreshing water. We also promised to return this summer to enjoy the lighthouse views, yachts, and explore more of the trail. Until then, I'm treasuring my memories from my favorite bike ride and the special rocks we collected.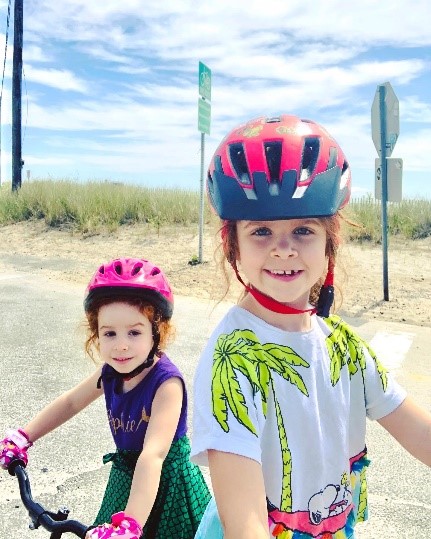 Ashley – Ensign Peak Trail, Salt Lake City, Utah
In September 2019, I was in Salt Lake City, Utah for a conference where I was running the hosting organization's social media accounts and promotion efforts. Looking to get out of the conference center and keep my face out of screens for a bit, I decided to walk the Ensign Peak Trail. The actual trail is about one mile to the top of the small mountain, but you can walk through downtown and join up with the start of the trail behind the State Capitol building. It's a great way to take in the whole city. The trail is well-maintained and features historical markers with information about the peak and the city below it.
Ensign Peak is where Brigham Young and the other pioneer leaders stood when they decided to settle in Salt Lake City. Standing up there myself and taking in the view at sunset, it was easy to see why.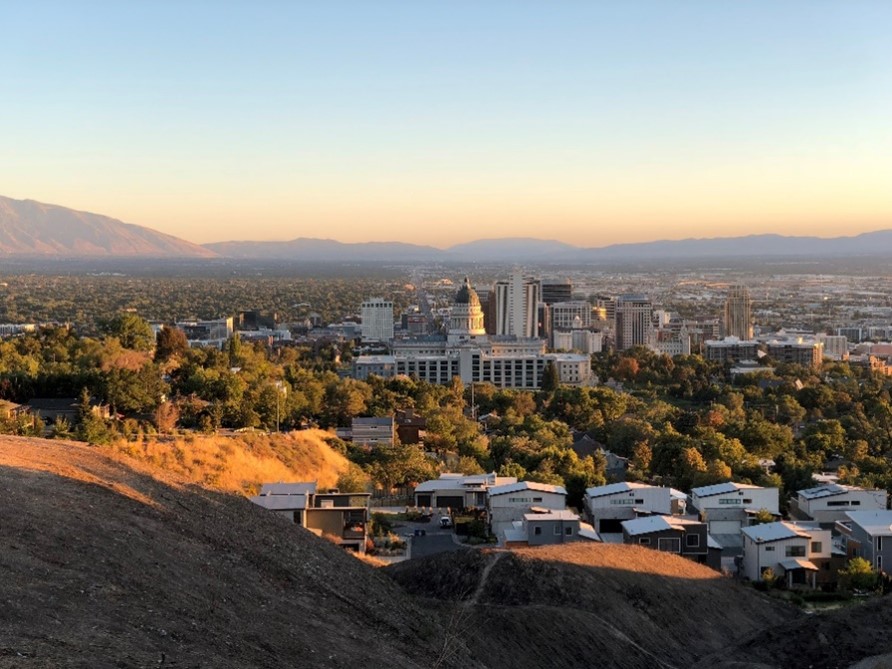 Tremayne – Havasu Canyon Trail, Havasupai, Arizona
The Havasu Canyon Trail is a treasure of Northern Arizona. It is truly an oasis, surrounded by towering red cliffs of the Grand Canyon. On the Havasupai Indian Reservation, the town of Supai is listed as one of the most inaccessible cities on the continental United States. It sits along the river and is only accessible by foot, horseback, or helicopter. A few miles up from Supai are aquifers that spring up water rich in minerals and turquoise in color. The river runs through a series of five waterfalls, with the biggest one, Mooney Falls, sending water crashing down from over 200 feet. The 15-mile hike in direct sunlight with temperatures reaching over 110 degrees is all worth it once you dive into the cold, clear water below. It's an experience you won't forget.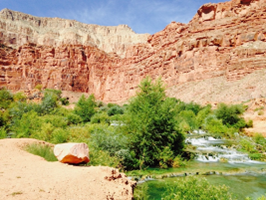 Hana — Bondi to Coogee Walk, Sydney, Australia
During the spring of my junior year of college, I studied abroad in the most beautiful place on earth (cue the bias). Less than a mile from my dorm was Coogee Beach, the last stop on the famous Bondi to Coogee coastal walk — about a four-mile trail looking over some of the most breathtaking views I will ever see in my life! Within those four miles, you get mountains, beaches, the Bondi Baths, bays, and a seemingly infinite number of dogs whose lives could not get any better. I will always remember how each beach along the walk had its own personality. Tamarama was wild and unpredictable, but surfers there thrived under pressure. Clovelly was calm and peaceful, usually where families with young kids spent their days snorkeling.
Out of all my Sydney adventures, I felt the luckiest having this trail in my own neighborhood. It's where I connected with new friends, found solitude, explored my new home, and even spent my 21st birthday. There's no doubt that I'll be back!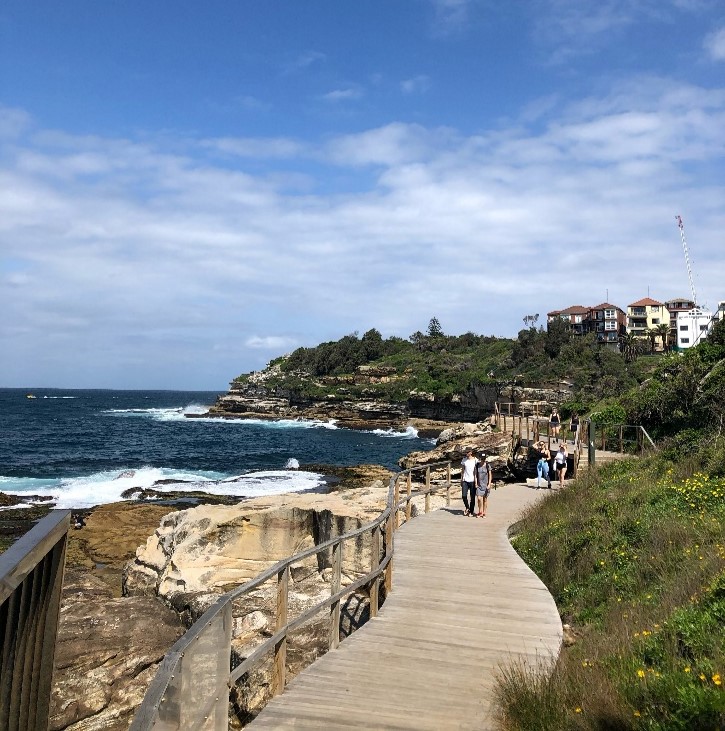 Andrew — East Bay Bike Path, Providence, Rhode Island
Growing up in Providence, the East Bay Bike Path was one of those trails I "discovered" as a kid that I keep coming back to as an adult. Roughly 15 miles long, the path starts in the Fox Point neighborhood of Providence, crosses the Seekonk River and runs south along the eastern coast of Narragansett Bay. The route takes you through some stunning views of the coastline, is well maintained and offers easy access all along the way for cycling and walking.
My favorite part is the Old Bridge Path, connected just north of where the bike path begins, which takes you by the Crook Point Bascule Bridge – an abandoned railway drawbridge that's stuck in the "up" position. The broken bridge has stubbornly avoided demolition for over 40 years and has become an oddly beautiful and sentimental icon of the city. Maybe you have to be there to understand.