Welcome to Around the Table, a regular series where we talk to people in our network and share the incredible work they are doing in their industry. Pull up a chair and join us for conversation and connection.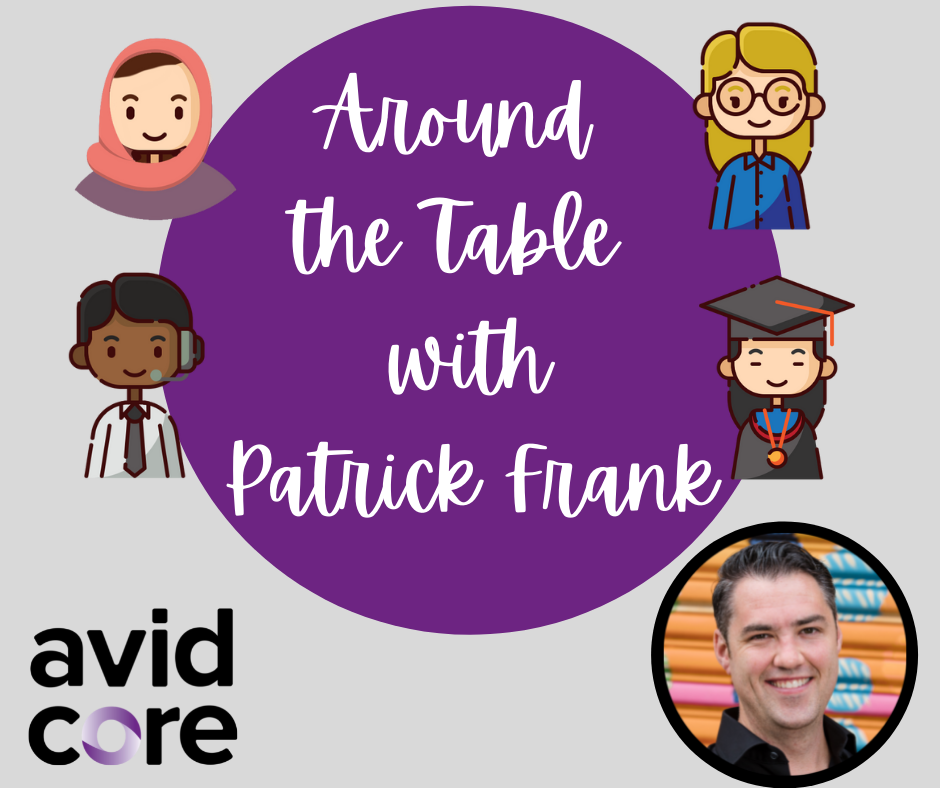 Name: Patrick Frank
Company: Patchbay Media
Where to Find You: LinkedIn, Twitter
How did you become a videographer?
I started making videos in high school with a Sony Mini-DV camcorder. I would film little movies with my friends and siblings, and I LOVED editing with iMovie. One time, I missed an entire week of physics class because I was editing my submission to the school's foreign film festival.
I went to college to study music production, but my projects always seemed to involve video. I did sound and music for student films and had a job as a campus reporter for an editorial startup focused on university news and sports.
My first job out of college was doing podcast production for NPR. But I was watching YouTube's massive growth in the late aughts and realized that the best opportunities for me were with video. I took the first boring job that was offered to me at the height of the recession — filming events for a think tank on K Street.
I started Patchbay Media in 2013 when my freelance workload was enough to leave my day job.
You recently wrote a book, Zoom Out: The Video-First Playbook for Becoming More Efficient, More Productive, and Making Remote Work for You. What inspired you to pick up the pen instead of a camera?
Without being able to film in-person, my business changed significantly in 2020. I was excited by all these new tools and opportunities to create video content in different ways that didn't require professional cameras and crews.
I also realized that while we're all sick of Zoom, it's not Zoom's fault! I wanted to learn how entrepreneurs, speakers, educators, and others were using video in interesting ways that support remote teams and flexible schedules. I also wanted to share my experience embracing remote video production and give readers and idea of how to create a video-first mindset in their businesses. There are so many ways to deliver a thoughtful, personable experience with video that isn't just another Zoom call.
What were your biggest takeaways after writing your book?
One of the biggest takeaways was learning how to write a book. Authors don't pull up a Google doc and write "Chapter 1" and start writing, that's not how it works.
I took a book writing class affiliated with Georgetown University. For the first few weeks of the class, the assignment was to just go find interesting stories and write 300-500 words about them. After a few months, I had 30 or so of these stories and, with the help of an editor, was able to pair them together to create chapters.
I've historically been a terrible reader. I don't think I finished a single book in 2020! But after working on my own book, I find books much more approachable because I understand how they're constructed. I also bought a Kindle which has been a gamechanger. I've read around 20 books this year which is a record for me by a longshot.
You're now taking what you learned and have launched a new consulting service. Tell me about what that offers.
Our consulting services are focused on helping companies identify opportunities and incorporate video into everything they do: sales and marketing, training and onboarding, and more.
For instance, we're working with a company that is now adding video into their proposals and sales presentations. Some of these videos are evergreen and reusable edits about products and solutions, but some are specific to that client and that proposal. They've gotten a great response and have closed more deals because their proposals are way better than their competitors.
We also train speakers on new video-first platforms like Prezi Video. We'll even convert PowerPoint slides to use with Prezi.
What's the best advice you've received in your career?
"Stop trading your time for money."
Over the past year or two, I've stopped doing most of the actual video-making and have teams in place for the projects that we get hired for. It's not a perfect system, but I feel good about the progress I've made to bring on skilled team members to handle the execution. This frees up my time to pursue new opportunities and partnerships. Ideally, my company should be able to run without me and that's the goal I'm currently pursuing.
When you aren't working, what do you like to do?
I love playing the drums with my bands, going to rock shows, and hanging with my 4- and 6-year-old sons.
If we were literally "around the table" right now, what food would you have brought to share?
One of my favorite foods in the world is Xiao Long Bao aka soup dumplings. Not sure how well they would travel if I was bringing them to a party at your house, but I always love introducing people to this delicacy!