Avid (adjective) – having or showing a keen interest in or enthusiasm for something. It's more than just our company's namesake. Passion for our work and for the things we love is part of our core values. Each month we'll share some of the things we're Avid Fans of with you.
Along with the freezing temperatures, winter brings holiday festivities, the ringing in of a new year, lots of scarves and fashionable coats, and time with family and friends. Bundle up and get cozy as the Avid Core team shares some of our favorite winter traditions!
Angel – Chris Brown, Cookies, Christmas Trees, and Movies
I am not an avid fan of winter, but I do love the traditions that come along with it. On December 1, my mom wakes us up bright and early by playing Chris Brown's rendition of "This Christmas" through the house. My sisters and I rush down the stairs, full of the knowledge that Christmas cookies were in the oven or cooling down waiting to be eaten for breakfast. We grab the Christmas decorations and the Christmas tree out of the storage closet in the basement and begin transforming our home into a winter wonderland. Each year, my grandmother comes over with homemade brunch and places the star on top of the tree. We gather around the living room with full bellies as we kick off the Christmas season by watching The Polar Express as a family.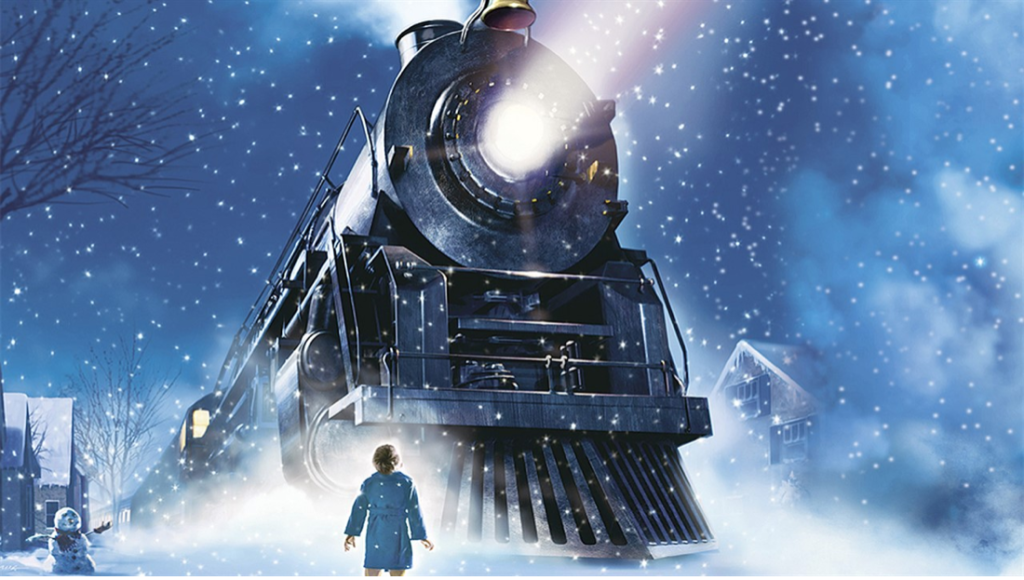 Steph – Art You Can Enjoy with Your Eyes and Mouth
Although we come from different backgrounds, the one thing we can agree on in my family is that cookies are a delicious way to celebrate the season. It's even more fun when we transform into cookie artists and make edible art. We've been decorating Hannukah and Christmas cookies for the past eight years. I really loved sharing this tradition with our daughters' classmates a few years ago. Watching preschoolers and first graders go wild with decorations taught me new, creative cookie decorating techniques (and to never turn your back or the sprinkles will mysteriously disappear). Pick up a cookie decorating kit, blast a festive playlist, and enjoy!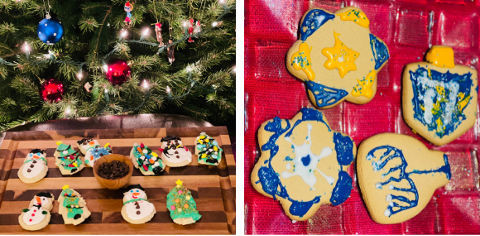 Sarah – Following Yonder Star —> Toward Mimosas
My approach to tradition-building is a bit haphazard, caused in part by all the awesome opportunities for winter fun in this area! There's so much to choose from and you just can't do it all. Good thing the grandparents have it together! One of my favorite traditions comes from my husband's family. They are Catholic, so they celebrate the three kings' visit to Jesus (Three Kings' Day / Feast of the Epiphany) at the end of the 12 days of Christmas. When my husband was little, they did stockings and had a nice meal. Now it's grown into a mini-Christmas, where they invite family and close family friends over, and we all gift a little something (from post-Christmas sales!) and have a huge brunch. It's great to have an event to look forward to during that post-Christmas, post-New Year's Day, back-to-the-routine-blues phase.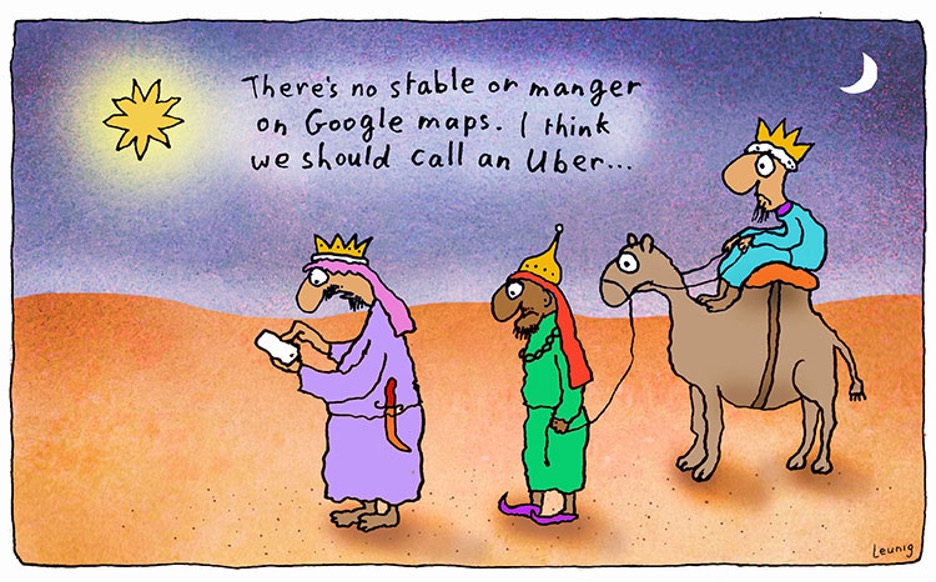 Ashley – Krampusnacht
My parents have very set traditions for Christmas and I really just have to show up and enjoy them. They are all very rooted in family and a traditional Christian Christmas and it is lovely and amazing. But my husband and I wanted to make sure we had a tradition of our own, outside of our respective families. When we were living in Germany in 2015, we finally found our perfect winter tradition – Krampusnacht! Krampus is the counterpart to St. Nicholas/Santa, who beats naughty children with sticks and takes them away to his lair. In the legends, he visits children on December 5, the night before St. Nicholas Day. We went to a Krampusnacht festival in Bavaria and now recreate the festivities with friends at our annual Krampusnacht party. It's filled with German Glühwein, traditional Bavarian recipes, and some party food favorites. It has been a great way each year to kick off the holiday season, share some of our favorite Germany memories, and have some fun.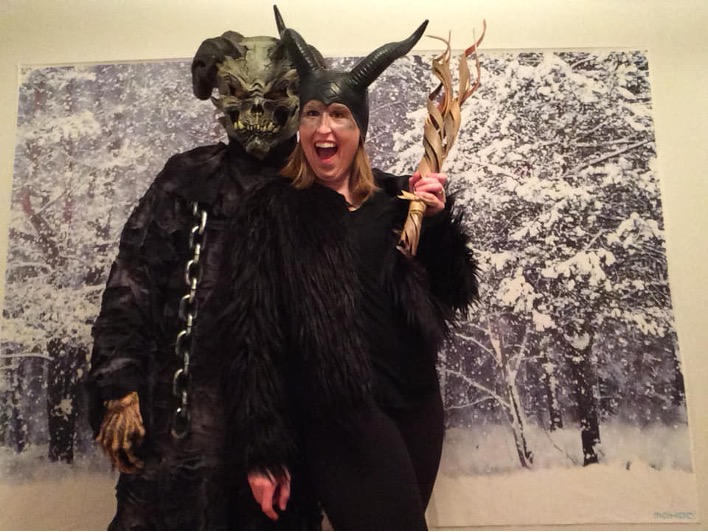 Trevor – Monopolizing the Opportunity!
Growing up in northern West Virginia gave me plenty of opportunities to enjoy the snow and get into the holiday spirit…if only I liked the cold temperatures! Lengthy snowfalls and negative temperatures meant fun snowball fights and sled rides around the state. However, for me, winter and the holidays bring countless memories of indoor activities fun for all ages. If I had to choose one, I would choose the days where schools closed thanks to heavy snowfall, and my family would stay inside and play Monopoly together. The game was filled with happiness (and anguish) as we would roll the die and test our luck with the Community Chest and Chance cards and bankrupt each other with every roll. The holidays are special for their own reasons but playing Monopoly on snow-filled days with no school takes the cake…or should I say the hot chocolate!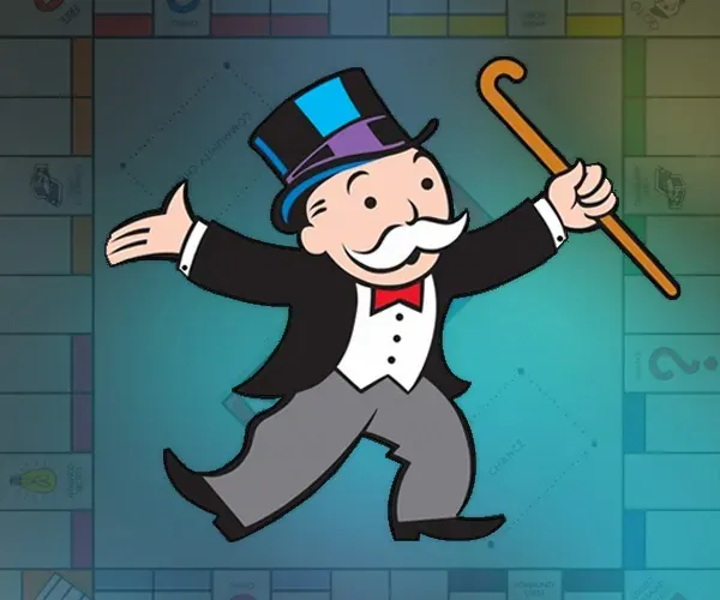 Amanda – To Be Determined
As a parent of young children and having just moved to a new neighborhood last year and figuring out life in a pandemic, our family's traditions are still being formed. My hope is that our new traditions will allow us to celebrate with family and friends of all backgrounds, support local businesses, and let my children get their energy out! I'm fortunate to live in an area where there are so many winter and holiday celebrations and can't wait to see what sticks for the Roberts' household!