Reflecting on my time at Avid Core, I've realized this is one of those experiences that has deeply formed me and prepared me for the next stage of my life. I was provided with an amazing opportunity to produce, create and collaborate on meaningful work in the communications field with a diverse set of clients across many different sectors.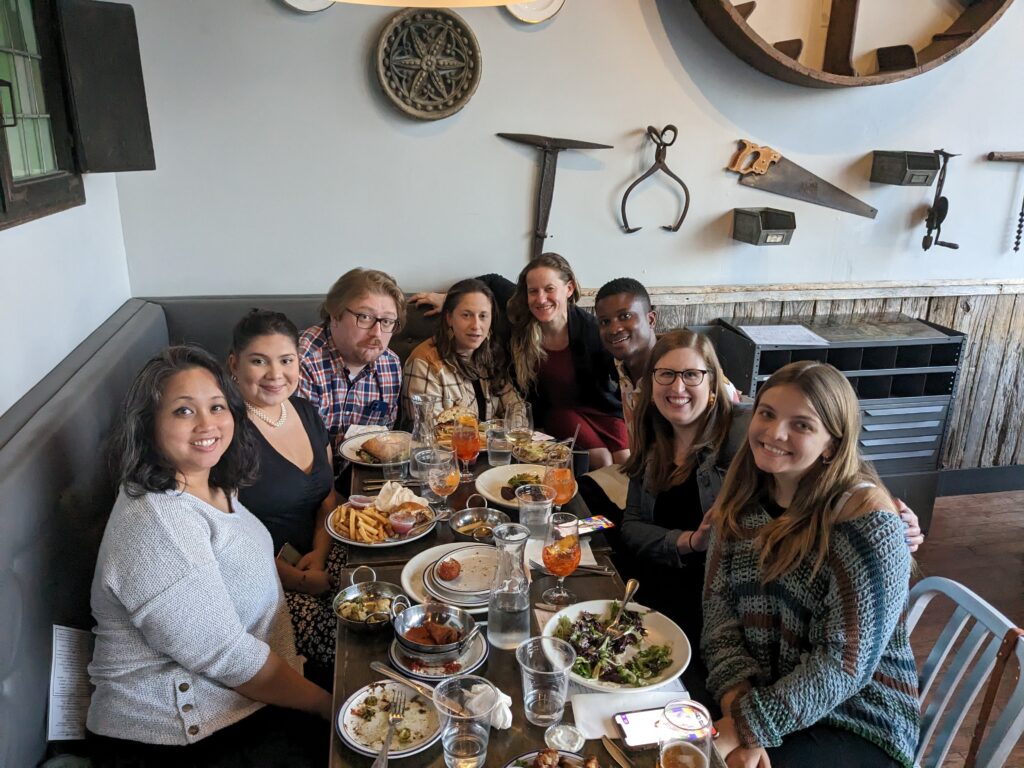 It's hard to narrow down the lessons I learned here, but here are a few that I know I will take into my early career.   
Be Curious
Act like a sponge and take everything in. I was able to not only connect with skills I had already established and develop them further, but I was able to be curious about new work I had never done before. I wanted to take on projects that I did not have a background in and step outside my comfort zone. I had never worked on the business development side of client relations in the communications field. This was intimidating but I knew that this supportive environment would help me expand my skill set.
Moving forward into my career I am eager to take on new challenges and different responsibilities that I may have never done before.
Embrace Learning Curves
With taking on new projects and work, comes learning curves. I was working on new assignments that I had not done before and at times I was hard on myself for not learning things fast enough or understanding things the first time. Yet, this is how humans learn. Instead of crumbling under the pressure, I made a checklist featuring all of the edits I was consistently receiving and used it to doublecheck my work before turning it in. I learned to not be afraid of asking questions. Feedback is invaluable in the learning process and necessary for progress.
Starting my first job out of college will be exciting and inspiring. I will take the organizational and communication skills I have learned to guide me and my work.
Trust Your Voice
Having to ask questions and be curious is daunting when you don't trust your voice. I used to have a deep fear of public speaking. I wouldn't be able to stand up and do a presentation without shaking and stumbling over my words. Avid Core helped me develop and trust my voice. Any ideas you present to the table are valued and wanted. I felt comfortable speaking in meetings and suggesting ideas because everyone was truly interested in what I had to say. Over the course of my internship, I was able to take the lead on projects that Avid Core knew I was passionate about. The endless stream of support through the "Kudos" channel in Slack and the shoutouts in team meetings helped me to trust my gut and voice.
Being able to speak up in a new environment will be tasking. With my newfound confidence in my ideas and abilities, I am excited for what I will be able to bring to the team in my first post-grad job.
Find the Humor
I tend to be hard on myself and get easily stressed when it comes to my responsibilities. The Avid Core team taught me the importance of stringing humor throughout your day. I remember getting ready to go to my first weekly staff meeting, prepping my notes and feeling a bit anxious. When I logged on everyone had a silly background to start the meeting off with some fun banter and ice breakers. It immediately calmed my nerves, and I was ready to participate. Small, seemingly silly things like Teams backgrounds and random Slack channels keep work fun!
Humor creates connections. I am excited to incorporate the work-life fun and energy I experienced at Avid Core into my new job.
I feel prepared, excited, and eager to step into the next chapter of my career. I genuinely will miss working with this team and know I will feel nostalgic for many details of the Avid Core workspace. I will be going into the communications and digital media field after graduation and the lessons I have taken from my Avid Core internship will carry me far into my career.
Abi Ingoglia is a graduating senior from The George Washington University earning her degree in political science. She will be entering the field of digital communications upon graduation. Connect with her on LinkedIn.