Avid (adjective) – having or showing a keen interest in or enthusiasm for something. It's more than just our company's namesake. Passion for our work and for the things we love is part of our core values. Each month we'll share some of the things we're Avid Fans of with you.
May is National Preservation Month! This month we celebrate the importance of preserving historic sites across the U.S., which provide a sense of pride both in our nation and within local communities. Avid Core's work prioritizes effective community outreach that supports environmental and cultural planning, including the preservation of America's historic and archaeological resources.
In celebration of the spirit of this month, we're sharing a few sites on the National Register of Historic Places (NRHP) that hold special meaning for our team.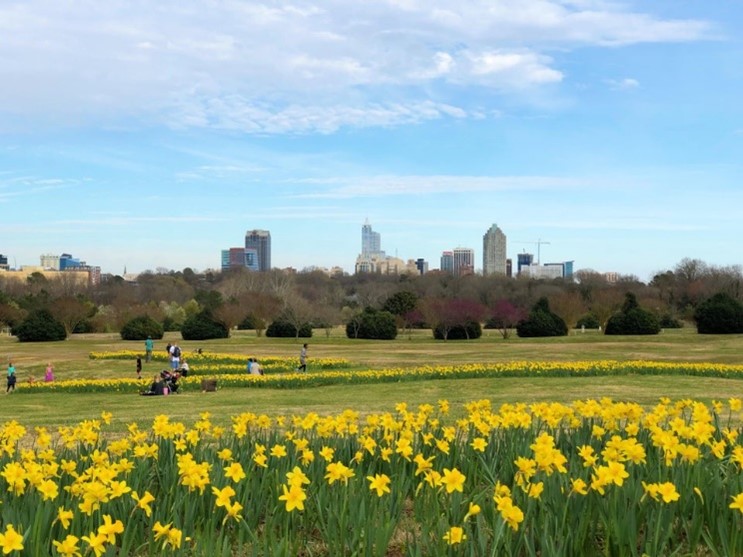 Hana – Dix Hill in Raleigh, NC
Founded in 1856, Dorthea Dix Hospital, located on Dix Hill, was the first facility caring for mentally ill patients in my home state of North Carolina. Today, the facility is no longer open, but you can still honor its history at Dorthea Dix Park, Raleigh's largest city park. I spent many days after high school at the park— a wide open grassy field perfect for frisbee and picnics with friends. My first quarantine hangout was at this park, with plenty of space to socially distance. It is so easy to take for granted the dissipating stigma around mental health and the institutions we have in place today that care for those who need treatment. Visiting the origin of such an iconic care facility reminds me of the amazing progress we have made, as well as the work that still needs to be done.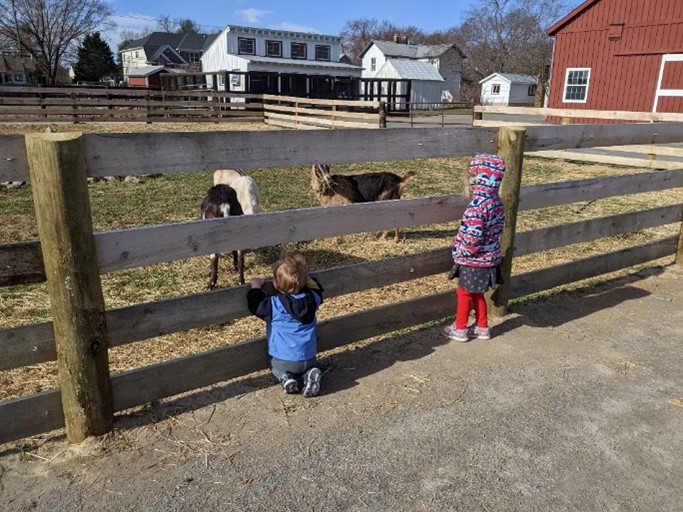 Amanda- Frying Pan Park
Frying Pan Park is a working farm park that preserves and interprets farming from the 1920s to 1950s. It includes historical buildings, farm animals, old farm equipment, a 1920s carousel, and a modern playground. My children and I love coming here in the early mornings before the rush of visitors to see the farm animals as they are just waking up. As the area around this park becomes more developed, this park seems like a hidden country treasure and a reminder of what much of this area (now suburbia) used to look like.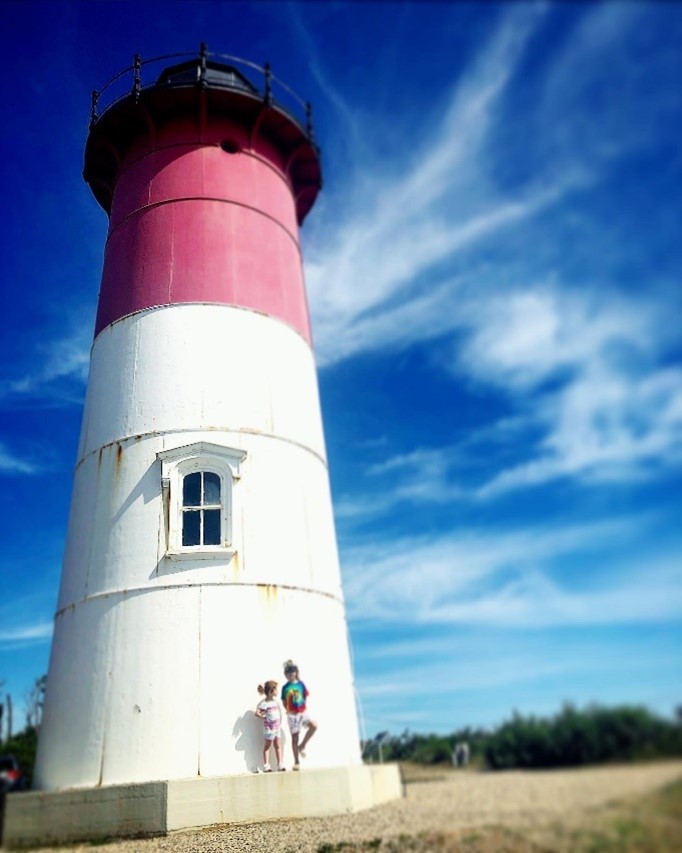 Steph – Beacons of Light
I'm that person who always buys the postcard with the local lighthouse on it. My fascination with watch towers started at an early age as I imagined myself as the keeper peacefully watching the sun dance across the water from 300 – 436 feet above the rest of the world. Before GPS and Siri existed, lighthouses spread across thousands of miles of shoreline proved to be vital beacons to captains anxiously navigating across the choppy seas. Each lighthouse is unique—the identification signal, the painted exterior, the curvature, and the design. That's why I make sure to visit as many as possible during any road trip.
Even though approximately 700 U.S. lighthouses have weathered the storm, they face many maintenance and funding challenges. The National Historic Lighthouse Preservation Act of 2000 allows the U.S. Coast Guard, National Park Service, and General Services Administration to sell the lighthouses to private owners and keep the beacons of lights around for many generations to come. I'm looking forward to crossing an item off my bucket list by staying at the Cove Point Keeper's House in 2022. Be on the lookout for postcards!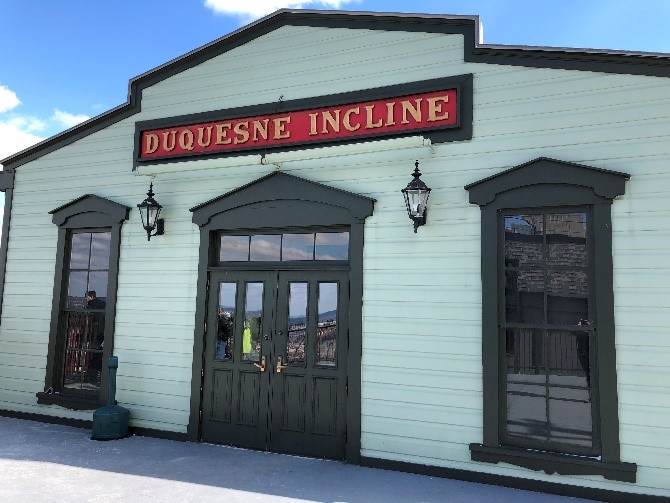 Ashley – Duquesne Incline, Pittsburgh, PA
My husband went to grad school in Pittsburgh and when he was in class, I spent my time exploring this rich historical city. One of my favorite views came from the top platform at the Duquesne Incline, which was added to the National Register of Historic Places in 1975.
At one point in time Pittsburgh was home to 17 active funiculars (aka inclines), using them to transport people and cargo up and down the many different hills located around the city. Now only two remain. The Duquesne is extra special because the community came together to save it, raising funds to make necessary repairs and working out a deal with the Port Authority of Allegheny County to keep it open and viable for the public.
Also, the Duquesne Incline features in Flashdance, a movie that stands as an absolute pop culture revelation. Its use in the movie makes no sense with the supposed geography in the film, but it's just one more reason that this spot should be celebrated as a historical treasure!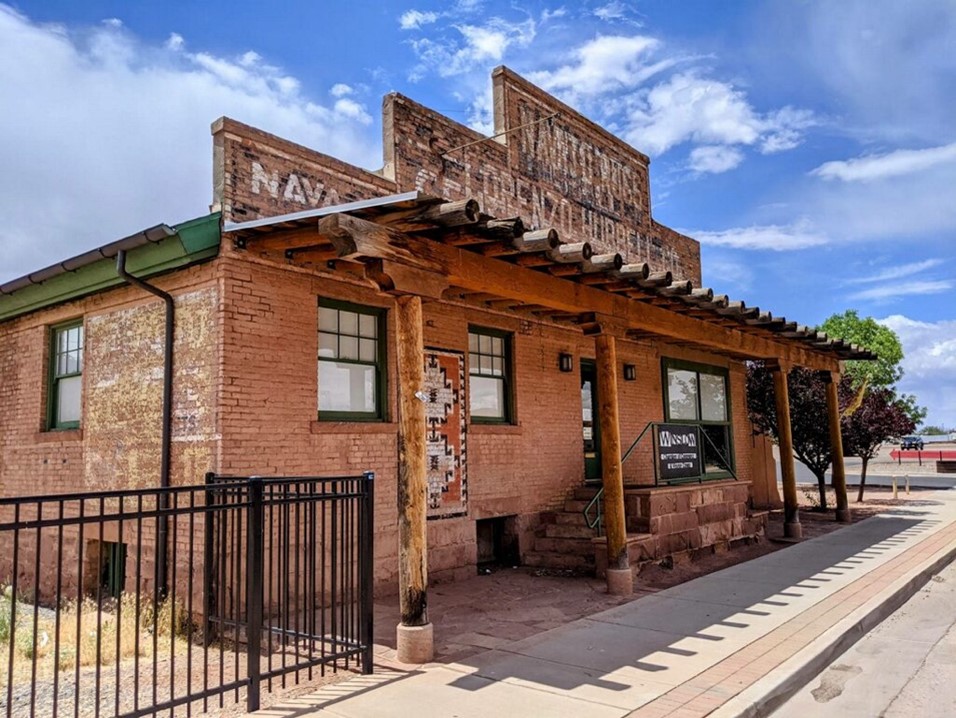 Tremayne – Hubbell, Lorenzo, Trading Post, and Warehouse
The Hubbell Trading Post in Winslow, Arizona, was built in 1917 and was initially used for storage and shipping for the railroad. In 1920, the warehouse was sold to Lorenzo Hubbell, who transformed it into the Hubbell Trading Post. The trading post became the central location for Native Americans to exchange goods and supplies. The trading post was listed on the National Register of Historic Places in 2002 and holds many great memories for my family. I remember hearing stories from my mom about how, as a kid, she would sit in a wagon for a day's ride into Winslow from our home on the reservation. My mom and her siblings would wait outside the city limit while my grandpa rode alone into the town on horseback. He would visit the trading post and other places to gather essentials like flour, salt, baking powder, sugar, and an occasional black licorice treat. Then, he would make the ride back and meet the wagon for another long trip home by nightfall.
Today, the trading post houses the Winslow Visitor Center, and the journey that once took a whole day can be made in 30 minutes by car. Whenever I drive through the area, I think about how fundamentally different and simple life was back then and appreciate the access to historical monuments and stories that hold value from the past.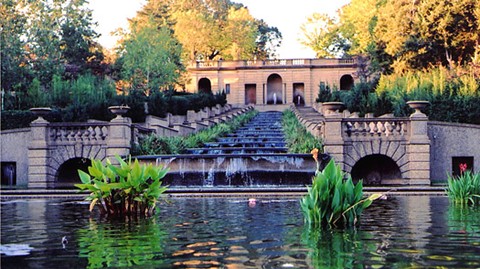 Virginia – Malcom X Park (Meridian Hill Park), Washington D.C.
It is hard to describe what Malcolm X Park meant to me when I lived in Washington D.C. It was my gym, my running route, my yoga studio, my concert venue or dance hall, my reading "nook", my meeting place with friends, and the list goes on. It was a sanctuary for me during times of uncertainty, and it is where I would go to keep myself grounded, think, and reflect. The park has also served as a wedding venue for several friends! Twelve acres of beautiful landscape sit atop a hill in the middle of Washington D.C. with an incredible cascading fountain. It has also been the site of a weekly drummer's circle for decades, among other long-standing gatherings. The park was listed in the National Register on October 25, 1994 and as a National Historic Landmark on April 19, 1994.
The history this park holds can be its own column! I'll list a few facts below from Washington Parks & People, but there is so much more, and I encourage you to learn more about it.
The hilltop marks a defining feature of the federal city laid out by African American surveyor, writer, and naturalist Benjamin Banneker. The hill would later be championed by Thomas Jefferson as the demarcation point for the Prime Meridian of the world.
The hill was the site of a camp for Colonel Robert Gould Shaw before he went to his death as the commander of the 54th Massachusetts Union Army Regiment, the northeast's first all-black regiment whose courage led to the naming of the adjacent neighborhood of Shaw.
The hilltop was the home of a trail-blazing Black higher education institution called Wayland Seminary and College.
Many African American homes were displaced for the creation of the park, and many African Americans helped build it.
The park was America's first national park built for the performing arts, with sunset performances ranging from Pearl Bailey to Bo Diddley Jr.
Martin Luther King Jr. frequented the park whenever in D.C., staying at the next-door Pitts Motor Hotel.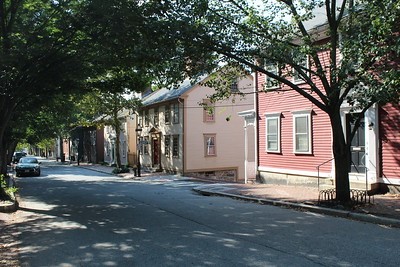 Andrew – Benefit Street, Providence
On the East Side of Providence, RI near Brown University, Benefit Street is a one-mile stretch of historic and NRHP-listed buildings rich in colonial history and architectural tradition. If you catch it on a quiet night, it can be like traveling through time. Many of the historic houses (locals call them "plaque houses") are still private homes, but others operate as museums during the day and offer tours. You can also find walking tours of the whole neighborhood—and at night, even ghost tours!
Here are some of the places you'll discover in the area: