Welcome to Around the Table, a regular series where we talk to people in our network and share the incredible work they are doing in their industry. Pull up a chair and join us for conversation and connection.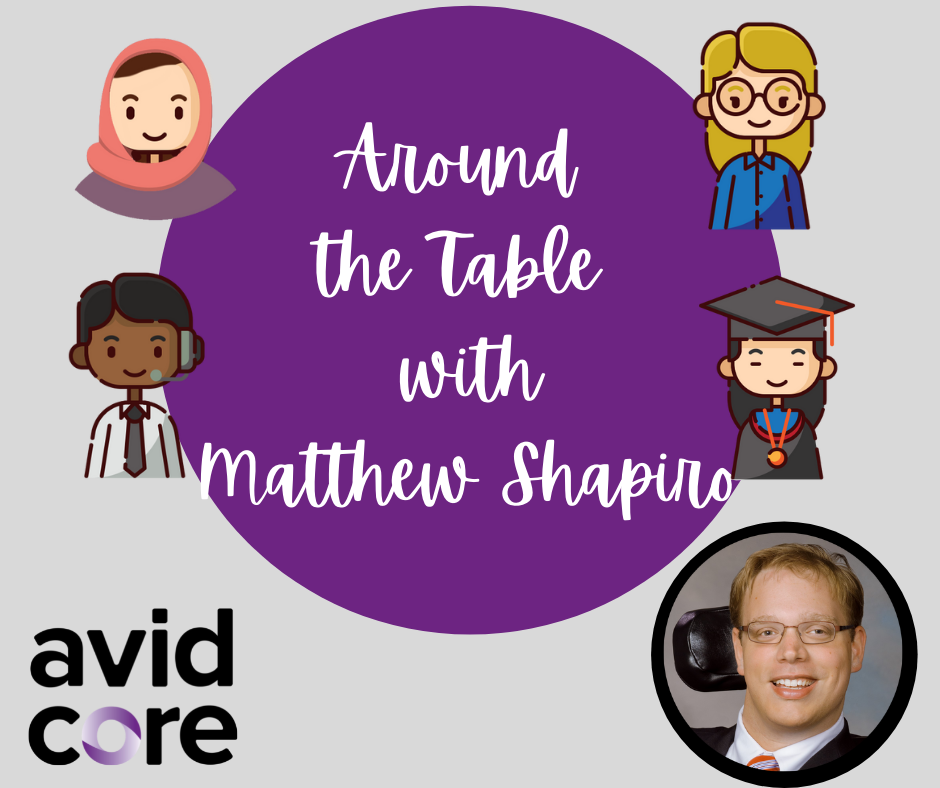 Name: Matthew Shapiro
Company: Six Wheels Consulting
Where to Find You: Facebook, Twitter, Instagram, YouTube, LinkedIn
How did you get your start as a disability and inclusion consultant?
Growing up working with youth with disabilities, I always knew that I wanted to work in the disability space. I felt that my voice could impact and help other people with disabilities who don't have a voice.
After several interviews with local disability organizations that ended without job offers, I decided to take the bull by the horns and create my own opportunity. In December 2014, I established 6 Wheels Consulting, LLC to challenge the way people think about, talk about, and approach people with disabilities and disability issues. Through professional consulting, dynamic public speaking, and lobbying services, 6 Wheels Consulting, LLC strives to educate and guide organizations to strengthen their understanding of inclusion and disability culture and the issues that affect this population. We achieve this using common-sense, cost-effective solutions to address disability-related concerns. Through this enhanced education, we hope to broaden society's understanding and appreciation for those with disabilities.
When people work with you and Six Wheels Consulting, what do you hope is their biggest takeaway?
Whenever I start working with a new client, I always have one primary goal in mind — to have them realize that being more accessible and inclusive is not as intimidating as they think. In all the work I do, I strive to provide common sense and cost-effective solutions to make things more accessible and inclusive for people with disabilities. I understand that not everyone will spend millions of dollars to make a space fully accessible. However, they can take many small steps to provide an incremental change that would allow for someone with a disability to engage with the space more easily. Hopefully, I can get the organizations I work with to see the value in implementing these changes from a business standpoint or a morality standpoint.
People with disabilities make up 20 percent of the U.S. population. We must be more than ADA compliant to truthfully guarantee that they can be fully included in everything our society offers. If all entities can buy into this idea, our world can be a better place for everyone.
What do you see as the biggest challenge facing companies or public sector agencies trying to become more inclusive and disability-aware?
The biggest challenge I face is getting them to understand the value of my services. Many times, when I approach businesses and other entities, they say, "I'm already ADA compliant, so why do I need to work with you?" Getting them to go above and beyond ADA compliance is challenging and getting them to see the value of doing more around accessibility and inclusion to draw more potential customers, workers, and community members into their organizations can be frustrating.
Changing this mindset takes time. If I can get organizations thinking beyond ADA compliance to a bigger inclusion picture, they are my right client. In some cases, I can do that, and in others, I still struggle to overcome this challenge, but I am not afraid to tackle it head-on.
What's the best advice you've received in your career?
The best advice I've ever received in my career is advice given to me by my brother before I started high school. He said, "Get involved and stay involved." This has served as my life's mantra from my high school years to now as an adult in the working world. I am always getting involved in projects, speeches, and boards to help impact people with disabilities.
I don't do any of the work I do seeking the spotlight. Instead, I do it to make the world better for people like me. I will always get involved and stay involved, and I encourage others to do the same. If you want change to happen, make the change happen yourself.
When you aren't working, what do you spend your time doing?
When I'm not working, I am your typical 30-year-old. I enjoy hanging out with friends and family, going to sporting events and movies, or exploring new places. I also enjoy playing video games and getting caught up on the latest episodes of my favorite TV shows. The Good Doctor is my number one favorite show right now.
If we were literally "around the table" right now, what food would you have brought to share and why?
If we were literally around a table right now, I would bring baked mac & cheese with bacon because who doesn't love baked mac & cheese with bacon? Seriously though, food always brings out the best conversations with people and I would hope that this comfort food would help spark that kind of conversation among those of us around the table.
Interested in building a relationship and joining us around the table? Let's connect.