Welcome to Around the Table, a regular series where we talk to people in our network and share the incredible work they are doing in their industry. Pull up a chair and join us for conversation and connection.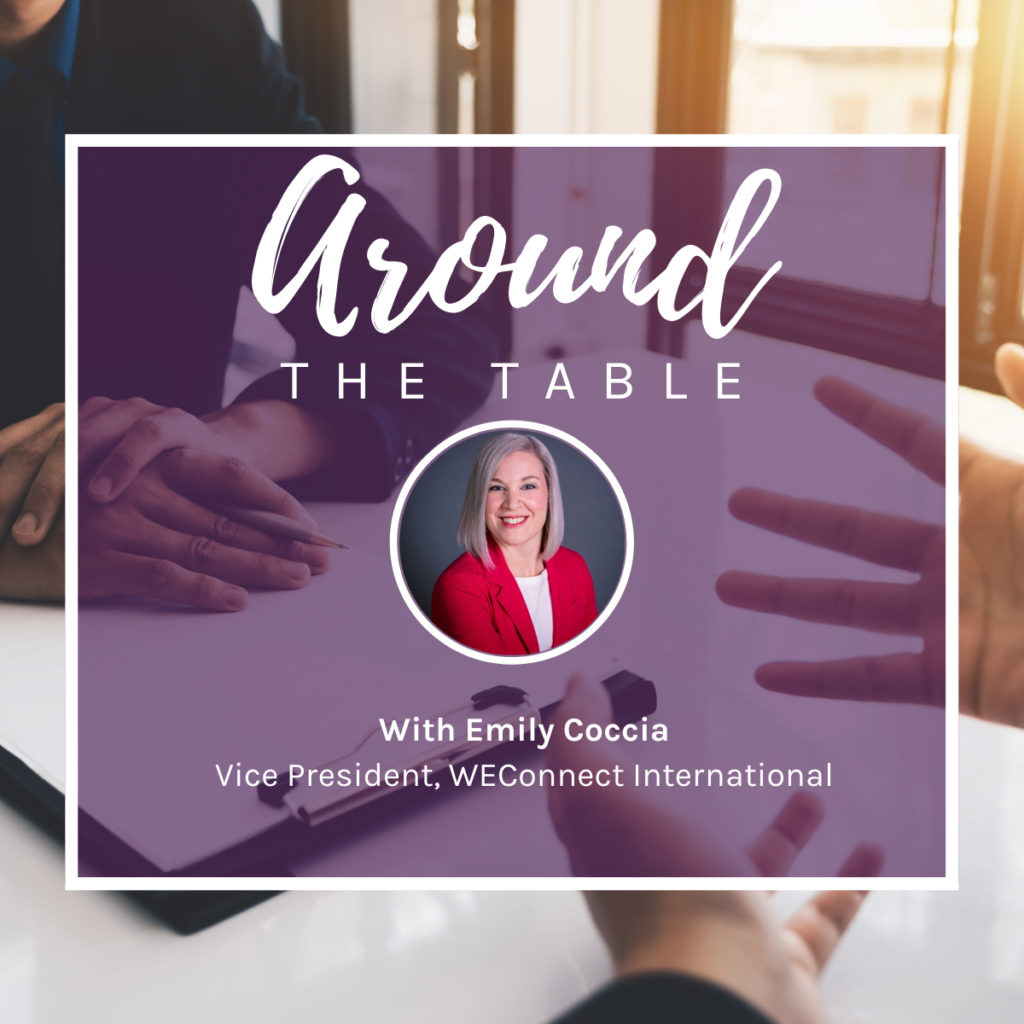 Name: Emily Coccia
Company: WEConnect International
Where to Find You: LinkedIn, Email
What drew you to WEConnect International and working with women-owned businesses?
I've always considered myself a "utility player" meaning my career path has not been linear or traditional and therefore my experience and skills can be applied to a number of things I'm passionate about. When reading about WEConnect International's mission, it was such an interesting combination of my previous work experience – specifically combining my knowledge and interest in supply chains (from my previous work in product philanthropy – moving excess inventory from large corporations to nonprofits who could use it) and my passion for advancing women's economic empowerment. I never pictured these two things connecting within one role, so it felt serendipitous.
In digging in and learning more about this connection, I also learned it fits my core values. I've always viewed nonprofit work as a bridge between the public and private sectors and the best way to increase impact and opportunities for vulnerable communities. Seeing how WEConnect International supports business – both large corporations and women-owned businesses – by providing opportunities for business connections to increase revenue and drive innovation while ultimately supporting international development and the global community is the ultimate win-win-win situation.
Not to mention – I just love being surrounded by smart and creative people with diverse perspectives, so working with a network of more than 11,000 women business owners around the world, really does guarantee that.
You are the Vice President of Special Projects. What does that title mean and how does your work support WEConnect International's mission?
Within my role at WEConnect International, I work to design and implement custom, global programs. I help identify new funding opportunities, work with corporate partners and government entities to design projects that reach their objectives and address the needs of women business owners, and I then ensure the organization has the right talent and resources to implement these projects across the globe. Additionally, in my role I support organizational strategy by identifying market trends, creating and monitoring organizational goals, and identifying areas within the organization where we can increase efficiency and expand and enhance programming.
WEConnect International works with people all over the world. How do you manage and build these global relationships with the physical distance, language and cultural differences, and different political environments?
Most days I would say that the absolute hardest part of my job is scheduling meetings across multiple time zones and my most common Google search starts with "what time is it in…". That said, managing global relationships has been my greatest learning at WEConnect International, and the thing that brings me the most joy.
At the beginning of 2020, I was set to visit 13 countries – which for me, was bravery I had to build. When COVID-19 hit, as an organization we had to quickly pivot to move all in-person events to be virtual and what I found in doing so was that on a daily basis I was now able to enter the homes of each of my partners, colleagues, and the women business owners in those countries instead. I believe this is a silver lining of the pandemic in that business was humanized to a greater extent. For example, at 7 a.m. I would enter a home in Bangladesh and hear a baby crying in the background or see floral artwork hanging on the wall or the household pet enter the screen, which is the same thing I would see in Brazil two hours later and Nigeria five hours later and Singapore 12 hours after that. This allowed me to really begin every conversation from a place of common understanding. And from there, it's about listening and making adjustments each time you learn something new.
For example, for projects in some Southeast Asian countries, it's important to understand that the weekend starts on Friday. In Australia and many European countries, do not plan on scheduling any events in the month of August because the summer holiday sees many people out of the office. And in all cases, it is important to understand that not everyone understands the nuance of the English language (and there is a huge difference between English in the US and that in the UK). Although these things may seem small and logistical in nature, they remind us of how important it is to be culturally sensitive to the more important things – like, keeping time for prayer during events or adjusting meetings around fasting, or starting an event with an acknowledgment to the Indigenous Peoples of the region – all the way through to adjusting how one presents business concepts in countries where women's economic empowerment is starting first from the place of making sure women are protected from violence or provided adequate education or basic human rights. 
What I find most in my work is that a woman business owner in one country is pretty similar to that in another – they are independent, creative thinkers and the hardest working people you'll ever meet. They can accomplish more in one hour (with a baby on their lap and dinner in the oven) than many can accomplish in a week. They see a problem, and instead of talking about it, they come up with a solution and build a successful business around it. Although I claim to support women business owners as part of my role at WEConnect International, what I really do is help provide a space for these individuals to share best practices, challenges, and solutions with each other and watch as they find new ways to positively impact the global community. 
What's the best advice you've received in your career?
Changing the perspective of a "corporate ladder" to a "jungle gym" metaphor really resonated with me. Growth in one's career does not necessarily mean a higher-ranking title or even a larger paycheck. It's about growing your skillset and increasing your knowledge and ultimately measuring your success by your own standards. My goal has always been to learn as much as I can and to make the world a better place, so my measurement of success and the path to get there is ultimately going to be different than someone with a different set of career goals.
When you aren't working, what do you like to do?
I love to do what I like to call "villaging." Everyone needs a village, and I like to be that village for friends and family – helping wherever I'm needed. I am also proud to be on the board of directors for Child and Family Network Centers and advocate for universal Pre-K and other causes important to me. I also love starting new hobbies – currently, I'm cross-stitching and (re)learning how to roller skate.
If we were literally "around the table" right now, what food would you have brought to share?
Easy! I would have brought pizzelles. These Italian cookies have been around every table of mine since I was born, and I love sharing a bit of home with new friends.