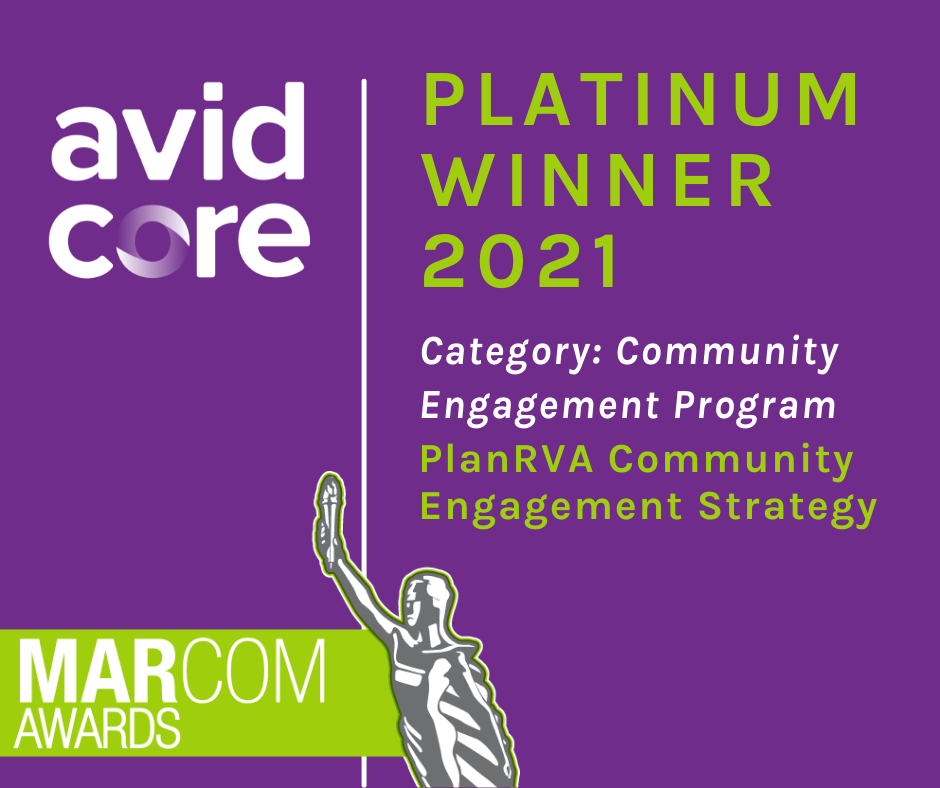 The MarCom Awards announced Avid Core as a 2021 Platinum winner, the highest honor in the international creative competition for marketing and communication professionals.
We were recognized for the Community Engagement Strategy we created for PlanRVA, a regional convener and planning agency for the nine localities in the Richmond Region.
We are so honored to have received this prestigious award. People are at the heart of our work and this recognition would not have been possible without the incredible collaborative partnership we have built with the team at PlanRVA and the many members of the Richmond community that gave their time and energy to us during the process.
The 2021 competition received more than 6,000 entries from the U.S., Canada, and 39 other countries. Our strategy is the very first Platinum winner in the Community Engagement Program category.

Our approach for this work was rooted in feedback from a diverse group of stakeholders, including Tribal Nations, community groups, and minority-owned businesses. Using the information gathered, we created a comprehensive strategy that provides PlanRVA with a strong framework for the future.
We appreciate all the support we received in this endeavor, and we look forward to continuing to see the strategy's impact in the Richmond Region in the months and years ahead.