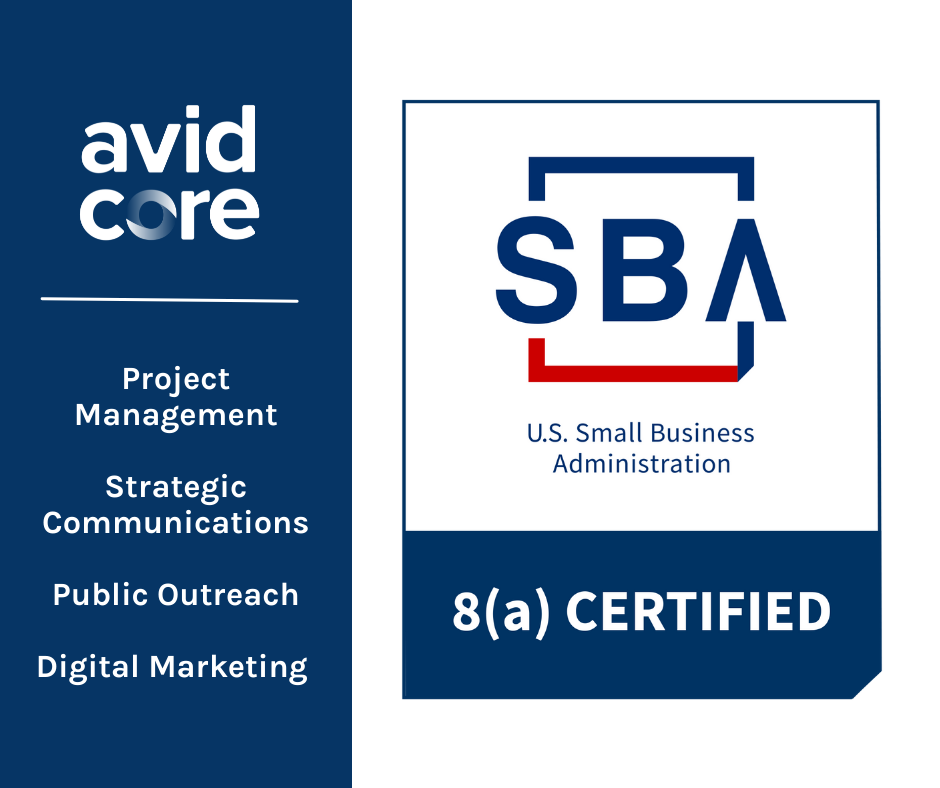 Contracting with Avid Core just got easier! Avid Core recently received the 8(a) certification through the U.S. Small Business Association (SBA). This allows federal agencies to easily sole-source contracts to Avid Core, providing access to our award-winning communications, public outreach, and project management services.
Growth and providing outstanding customer service are our top priorities. We are always looking for new opportunities to share our expertise to help our clients and partners successfully implement inclusive and effective strategies.
We hope to expand our project management and support offerings with this new certification. Our strong project management capabilities, including Project Management Professional (PMP)-certified staff, have contributed to our success in our first two years. We have consistently seen our rigor to scope, schedule, and budget lead to major outreach and communications wins for our clients.
The 8(a) certification is another steppingstone in our company's development path, and we envision playing a critical role in transforming the federal government's outreach and communication processes.
We are committed to collaborating with our clients and our dedicated partners to better serve our communities. Let's make an impact together.  
Want to discuss partnerships or new opportunities? Connect with Virginia Quiambao Arroyo at varroyo@avid-core.com or Amanda Roberts at aroberts@avid-core.com.